Canvas Sunbrella Fabric Awning in Tampa Transform Outdoor Patio into Summertime Oasis
This week we had the pleasure of installing a new Sunbrella canvas awning for Anita in Tampa, FL.  She came to us hoping for a way to get more use out of her outdoor patio area during the summer.  Anita had three major problems:
The summer sun in Tampa is incredibly hot and makes her patio unusable
The afternoon rain storms during the summer wash out most outdoor plans.
Her French doors were prone to leaking at the threshold during heavy rains.
These are very common problems in West Central Florida and at West Coast Awnings, we have been solving these problems for almost 60 years.
Fabric Awning
In Anita's case, she chose a traditional style awning with Sunbrella canvas.  Sunbrella canvas has a breathable weave that allows hot air to escape through it while maintaining a nearly waterproof barrier against rain.  At 17ft wide and 7ft projection, her new canvas awning gives her an additional 119 sq ft of living space that is shaded and protected from rain.
She also chose to powder coat her welded aluminum awning subframe and her structural aluminum posts.  We excavated and poured concrete footings for proper anchoring of her fabric awning frame so it would withstand hurricane force winds up to or exceeding the strict Florida Building Code.
Canvas Awning
Finally, we sealed the Sunbrella awning to her home using the highest grade commercial terpolymer sealant available today.
With the addition of her new Sunbrella fabric awning, Anita can now enjoy her outdoor living space year-round without having to worry whether the weather will spoil her plans.  If you would like us to help you with an awning or canopy for your outdoor patio or deck, please give us a call or use our Contact Us form to send an electronic message.
We will get in touch with you to set up a FREE on-site consultation with one of our awning experts.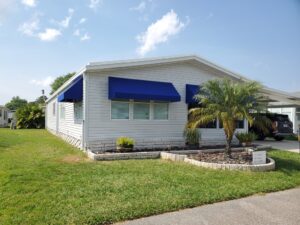 West Coast Awnings
We at West Coast Awnings specialize in sunbrella awning / marine fabric awnings, sunbrella retractable pergola canopy, sunbrella awning fabric replacement, sunbrella awning fabric by the yard, sunbrella pergola canopy, sunbrella awnings costco, sunbrella awning prices, sunbrella shade, shade outdoor covers, sunbrella retractable standard patio awning, sunbrella retractable standard patio awning, sunbrella retractable soffit patio awning, covers by the yard sunbrella, retractable soffit patio awning sunsetter, and much much more!!
Sunbrella Fabric Awning FAQs
Is Sunbrella fabric worth it?  Sunbrella is definitely one of the highest quality fabrics around, but there are similar solution dyed acrylic fabrics out there like Para and Sattler.  They all last for 10+ years if you maintain them.  Is Sunbrella better than Sunsetter?  The two are hard to compare, one is a retractable awning made from non US components and the other is a solution dyed acrylic fabric made in the USA.  If I had to pick, I would say Sunbrella fabric is great for awning fabric and Sunesta is the best retractable awning.
Sunbrella Fabric for the WIN!!!
Which Sunbrella fabric is the most durable?  I would say the awning and marine fabric we work with everyday is more durable than their furniture fabric.  What is the most durable awning fabric?  There are some super thick and durable vinyls out there so I would go with one of those, but if you want it to be breathable and beautiful, then Subrella fabric awning fabric would be the way to go.
Call, text, or email us your questions or plans and we'll be sure to solve all your shade needs.  If we can't, we'll be sure to point you in the right direction!