West Coast Awnings Ranks #11
Among Sunesta Dealers Worldwide
Earlier this month at the annual Sunesta dealer meeting we were delighted to learn that our 2013 sales placed eleventh among international Sunesta retractable awning dealers.  Locally, were able to keep pace with the largest markets in New York, the Jersey Shore, and New England while outpacing other awning companies in major cities around the US and internationally as well. 
World Class Sales Staff
We can thank our knowledgeable sales staff, our dedicated service technicians, and our production partners at Sunesta for this most recent success.  Most of all, we have to thank our fantastic customer base in Tampa Bay for showing that we can be on the cutting edge of shade and rain protection technology ahead of cities with populations much greater than ours.
Retractable Awnings by West Coast Awnings
Sunesta specializes in Retractable Awning and Canopy technologies along with retractable screen systems and retractable vertical shades.  Constantly inovating to find better solutions to common sun and weather protection problems, we work closely with Sunesta to develop new ideas and to perfect tried-and-true methods.  With over 50 years of experience, you can count on West Coast Awnings to give you the guidance and expert advice you need to get the most out of your outdoor living space.
Customer Experience
Sometimes we have to use our imaginations to solve a customer's sun control problems.  Check out what we managed for Tracy in Tampa.  She needed a way to shade her kids while they played outside on their playground–  Our Seamstress staff even put together a special velcro saftey pad for the support post at the far left; Just a little extra something that you get with a family-owned business.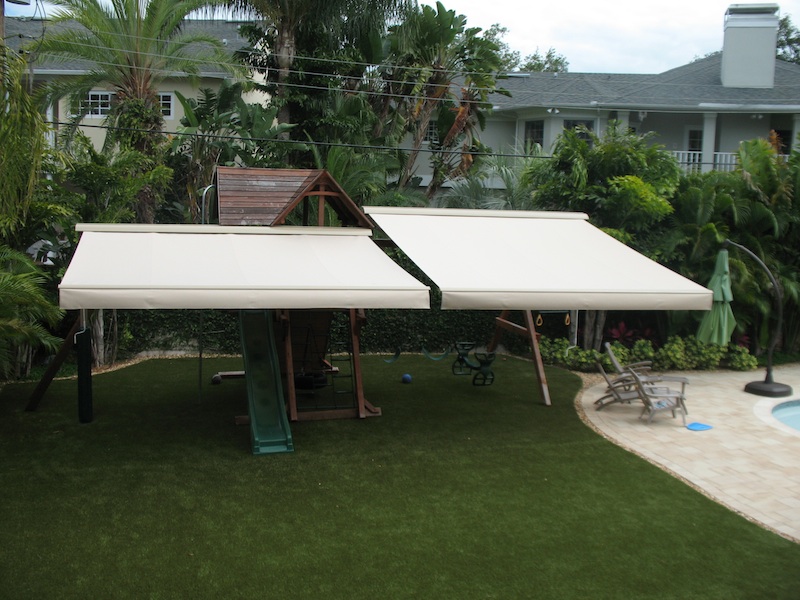 West Coast Awnings
Do you find yourself asking, "where can I find quality awnings near me or quality shade products near me?" If so, then I hope you live in the Clearwater area or in Pinellas, Pasco, or Hillsborough counties. We are the area's best awning manufacturer. We specialize in the highest quality products and the best customer service of any of our competitors. Whether it be awnings Tampa, awnings Clearwater, awnings St. Pete, aluminum awnings Tampa, carport awnings, residential awnings, commercial awnings, awnings patio cover, awnings for shade, awnings west coast, aluminum patio covers, etc., we can handle it!
FAQs
How is West Coast Awnings rated? Take a look at Google and see for yourself. We strive to give every customer a 5 star experience. Does West Coast Awnings have a license? We do! It is a specialty aluminum license for the state of Florida which allows us to pull permits when necessary. Does West Coast Awnings offer free estimates? Absolutely!!! Just give us a call and we'll have a field rep contact you to set up an in home appointment.