Custom Awnings for Patio and Lanai
to Suit Any Situation
This week we had the pleasure of installing another custom-built solution to a very unique problem.  This awning had to be fitted perfectly to our customer's 2nd floor balcony patio and we even had to reinforce the existing hollow columns with 3000PSI concrete to meets hurricane code.  The welded aluminum sub-frame is custom powder coated to match the current window trim on the home. Then, to add an more polished look to the finished product, we provided decorative post wraps that surround our structural aluminum columns to match the surrounding architectural flair of the existing railing.  Check out some of these photos: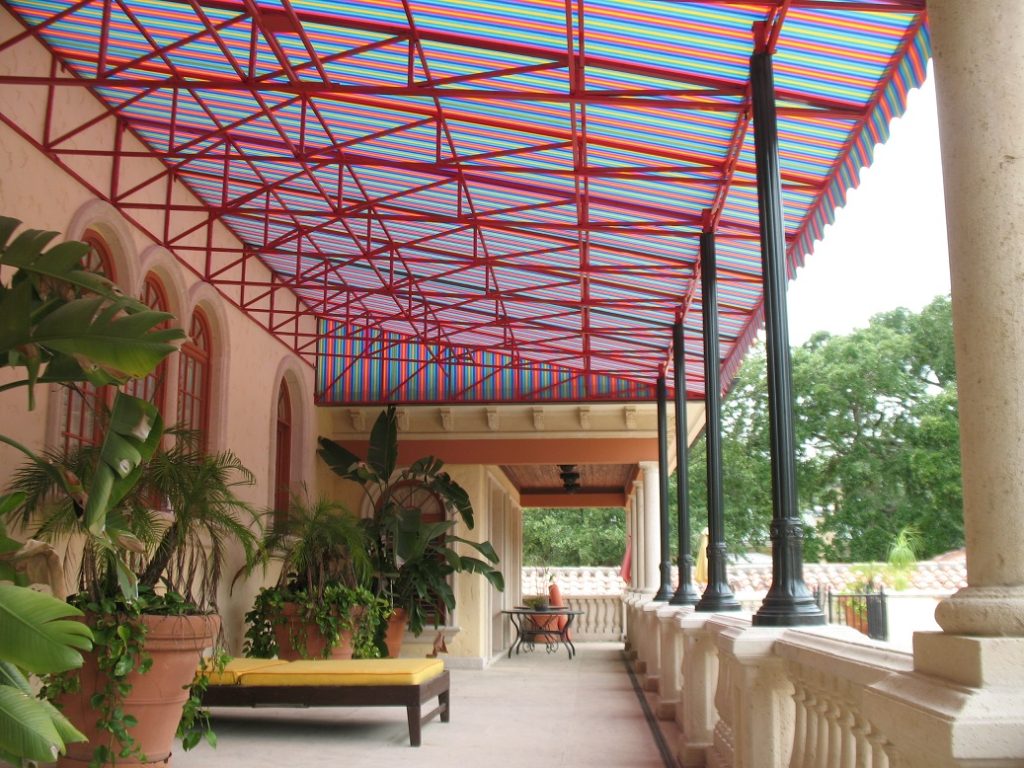 Our engineering team loves to make your vision a reality.  Whether you are shading a window to cool your living room or you need an awning to cover your pavered pool deck, we can find the shape, color, and method to fit your needs.  We've been creating beautiful shade structures for over 50 years and would love to chance to talk with you about what we can do for you. 
Our business is based on keeping promises and making dreams come true for our customers.  If you need a shade solution or a way to keep the rain and wind out of your patio or lanai, we are the people you should talk to first!  In fact, talk to us first then talk to anyone else you want to.  Usually, we end up being the last people you talk to when you say, 'thanks for doing a great job!"  We got into the awning business to build fantastic structures for you, our client, and we'll be in the business for years to come for the same reason!  Give us a call today to find out more!!
West Coast Awnings
We manufacture all types of shade products such as retractable awning for patio, awnings for home, permanent awning for patio, awnings for patios near me, aluminum patio awnings, metal awning for patio, lowe's awnings for patios, patio awning retractable, manual retractable awning, window awning door canopy, and much much more!!!
Awnings for Patio FAQs
How much does it cost to add an awning to a porch? That depends on several factors including awning type and size. The best way to get an accurate quote is to give us a call for a free estimate. What can I use instead of an awning? Maybe a shutter, shade sail, or retractable motorized pergola will work for you. It all depends on what you are trying to accomplish. What is the difference between a canopy and an awning? For most people, they are one in the same. I tend to think of canopies as having some sort of support posts or arms from the top of bottom, and awnings as being self supporting from the awning frame alone.
What is the cheapest option available within retractable awnings? There are a few big box stores and online retailers that sell awnings from oversees. These will work for a few years and you often have to install it yourself. If you want a high quality installation of a top quality product then give us a call. What are the shipping options for retractable awnings? Our awnings come from Jacksonville, FL fully assembled in a large shipping tube. We put those on top of our install trucks and bring them out to your home for installation.