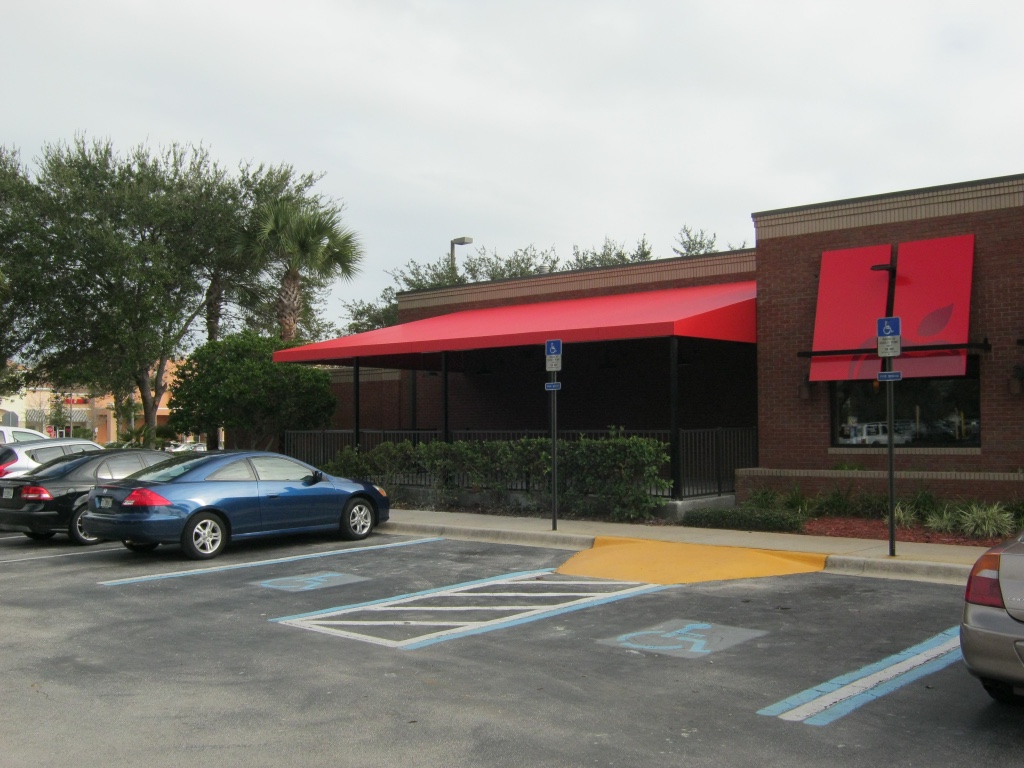 Restaurant Awnings
Restaurants and other food and beverage service businesses with an outdoor seating area can benefit from a restaurant awnings or other cover simply for the seating turn-over.  One afternoon thunderstorm can wipe out an entire dinner-time rush.  30 minutes of rain and all of those seats sit empty and your restaurant loses all those tables. 
Also, in the heat of the summer, the sun can make your outdoor seating area unusable.  Some restaurant managers try to employ umbrellas, which really only put one or two people at a 4-top in the shade.  Alternately, during winter, a cold breeze can make your outdoor seating useless.  With a set of roll-down curtains, drop curtains, or retractable screens around your restaurant awnings, the cold wind can be stopped and the outdoor seating that you value can be used all evening!
Obviously, adding a restaurant awning has done wonders for this Applebee's restaurant.  You can see in the photo that the tables are protected from both the sun and the rain.  In winter, when needed, the roll-down curtains will be dropped and secured to stop the cold wind.  Wouldn't your restaurant do more business if you could seat your outdoor area in all weather?  If you don't have an outdoor seating area you should consider adding one.  It will likely pay for itself in only a few months and then you can increase your profits for years to come.
Lights and Heaters for Restaurant Awnings
You can also add heaters and lights to the underside of the awning frame for the added comfort of your guests.  Using electric infrared heaters is especially economical when compared to propane heaters whose warming heat can be easily carried away by the slightest breeze.  When combined with proper lighting, your restaurant outdoor dining area can be as comfortable as your interior dining room and send your revenues up in all seasons.
Custom Made Restaurant Awnings
With our custom-made welded aluminum sub-frame restaurant awning with waterproof vinyl fabric, you will have an area that is designed specifically for your area and adds both functionality and beauty to your establishment.  Give us a call here at West Coast Awnings to see what we can do for you.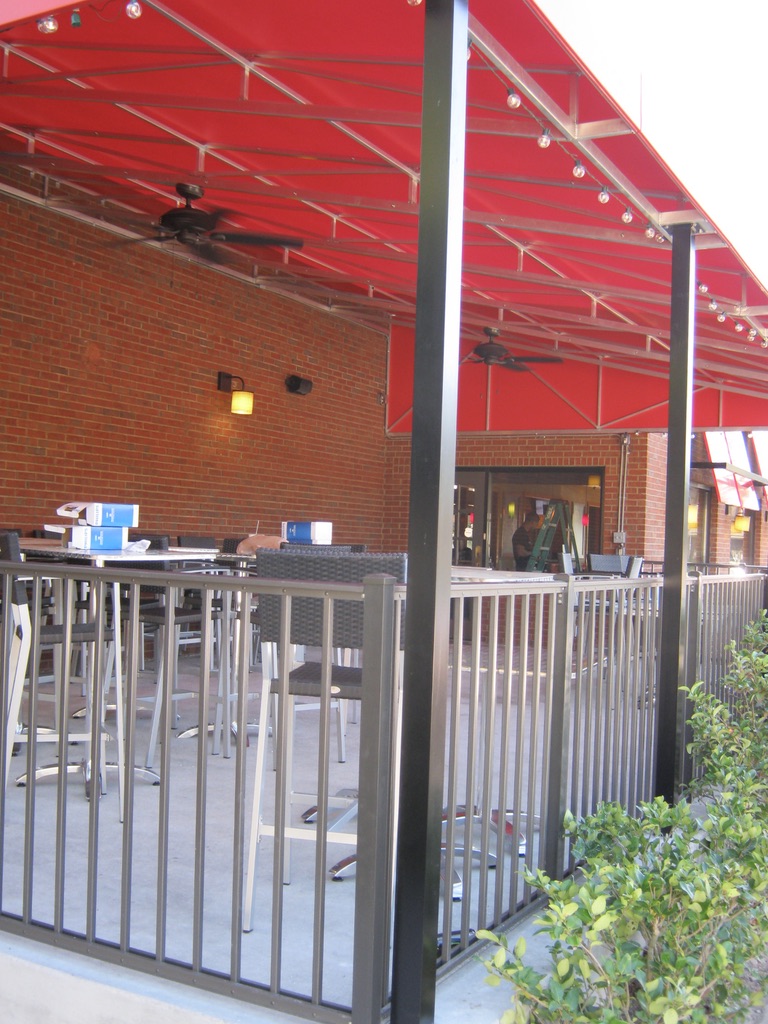 West Coast Awnings
At West Coast Awnings in Clearwater, FL, we specialize in commercial restaurant awnings, restaurant patio awnings, restaurant patio canopies, restaurant awnings for sale, restaurant awning ideas, restaurant canopy tent, patio awnings, awnings restaurant, awnings for restaurants, restaurant awnings retractable, retractable restaurant awnings, and much much more.
Restaurant Patio Awnings FAQs
Do you ever find yourself musing, "where can I find an awning for restaurants near me or restaurant awning near me?"  If so, and you live in the Tampa Bay Area, then we would be happy to help you with you restaurant canopy.  Restaurant awning prices vary greatly depending on the types of framework and materials used.  We only make aluminum restaurant canopies due to the durability and longevity.  We are the best commercial awning company around when you look at our positive Google reviews.
How much does is cost to buy an awning?  There are just too many factors to answer that accurately without an in person assessment.  Just give us a call for a free estimate.  What are commercial awnings?  They are just like residential awnings except that they are found on commercial properties.  What are storefront awnings made of?  From West Coast Awnings, your storefront awnings could be made from a combination of aluminum and fabric, or purely aluminum depending on the look, cost, and purpose of the awnings.