Retractable Awnings
Retractable Awnings Provide Convenient Flexibility.

Shielding home furnishings from the sun on those hot Florida days can be a struggle. You'd like to keep the windows and curtains open to enjoy your view, but penetrating UV rays will wash out fabric and fade flooring and furniture over time. Not to mention that the heat of the sun can make your home hot and stuffy, rendering living space near large, beautiful windows and doors practically unusable.

The solution to both of these problems is a Sunesta retractable awning. Commonly referred to as a 'Sunsetter,' a retractable awning is a versatile and elegant solution to most sun shading problems. Extended out on sunny days, the awning shades your home from the sun's hottest rays, protecting furnishings and keeping a large proportion of that heat out. In fact, the temperature under an awning is 15-20 degrees cooler! On cooler days, simply retract the awning to let those warm rays in. And when severe weather threatens, your retractable awning is safely retracted against the house to avoid any damage .

For homeowners in Florida's Tampa, Clearwater, and St. Petersburg area, retractable awnings from West Coast Awnings are the perfect solution to provide sun protection where and when you need it.


Residential
Retractable Awnings
Retractable Awnings & Roofs
Choose Durable Acryllic Canvas Fabric for your Retractable Awning.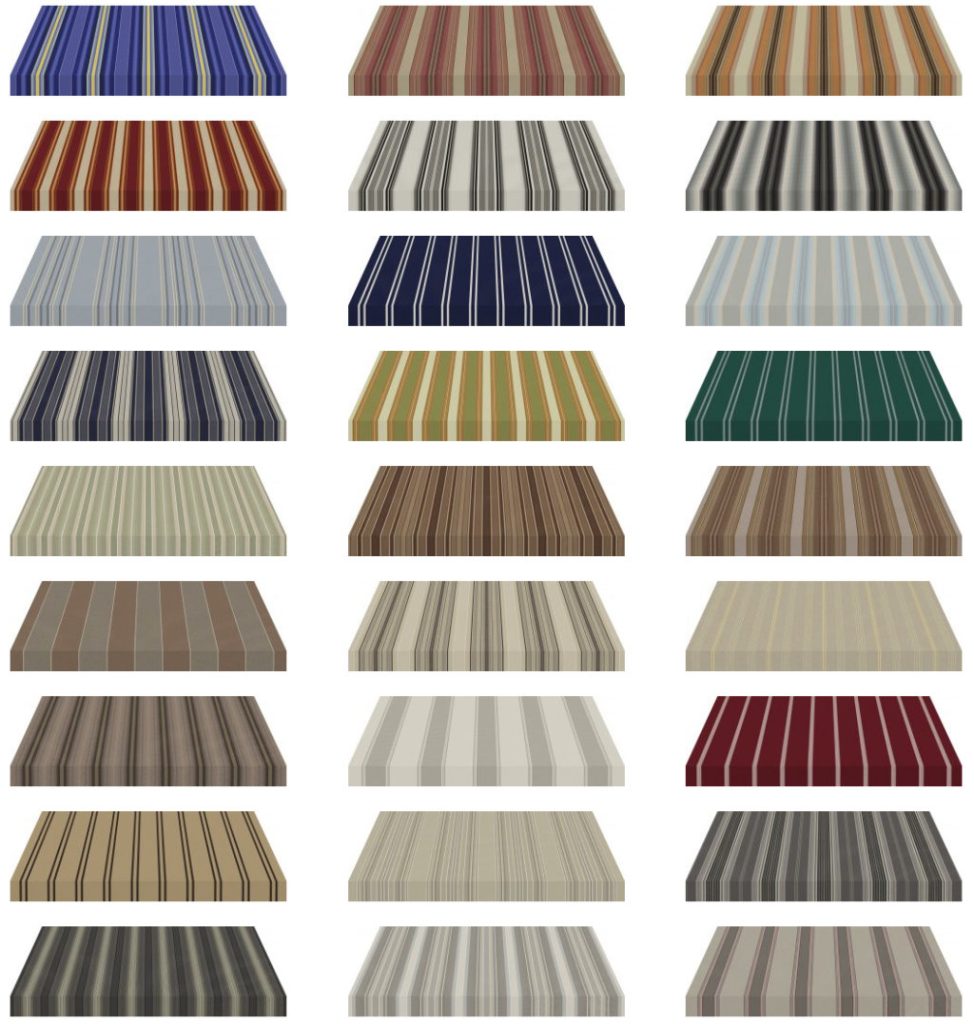 One of the best features of a Sunesta retractable awning is that you can choose from over 190 different colors and patterns to match any home's design and decor.
Commonly known as Sunbrella, this fabric is woven from UV-resistant 100% solution-dyed acrylic fibers, that provide excellent water repellence while remaining breathable to allow hot air to rise through the awning, keeping your outdoor patio or deck cool and comfortable even on the hottest summer days.
This Sunbrella fabric carries a 10-year warranty against fading, mold, rot, and mildew and is simply the best outdoor fabric available on the market today.
Contact us below or give us a call at 727-727-447-3461 to see all the fabric and color options available to you.
Retractable Awnings Styles for Every Home
In addition to all those color options, there are plenty of frame choices, too. Retractable awning frames from Sunesta provide a comprehensive warranty of up to 15 years, and have both motorized and manually operated options. Motorized Sunesta retractable awning frames can be operated via multi-channel wireless remote control, providing the ideal combination of luxury and convenience.
These beautiful, rugged awnings are available in four different models to fit any application and budget.  With a retractable awning from West Coast Awnings, your outdoor living spaces will become the outdoor relaxation and recreation areas that you've always intended them to be.  Sunsetter is a brand name that many consumers are familiar with, but most don't know much about what makes the Sunsetter product different from ours.  While the Sunsetter brand is "assembled" in the USA, its component parts are produced overseas in China where quality control and regulation are much less stringent.
Our Sunesta brand retractable awnings are assembled in Jacksonville, Florida from United States and European components only.  No part of our awnings is ever produced in China.
Additionally, Sunsetter uses a 6-ounce acrylic fabric made by Sunbrella that is cheaper and has a shorter warranty than the industry standard 9-ounce Sunbrella that we utilize at West Coast Awnings.  Our fabric carries a 10 Year warranty that is not pro-rated which is double what Sunsetter offers for their fabric. For more information visit our Sunesta vs. Sunsetter page.
It's easy to find out what a West Coast Awnings retractable awning can add to your home. Use our contact form, or give us a call at (727) 447-3461, to get a FREE ESTIMATE on your new residential retractable awnings.
Why Buy A Retractable Awning?
Shade when you NEED it. Sun when you WANT it. — With a Sunesta Retractable Awning, you control the shade. Enjoy your outdoor living area more than ever with the convenience of total shade control. Extend and retract your Sunesta Awning with the turn of a handle or push of a button – it's that simple. Your awning can be extended fully, partially, or retracted depending on the amount of shade you need or how much sun you want.


Block the Sun, Keep your View. — Our strong, streamlined designs eliminate the need for support poles, so our awnings block only the sun or light rain, and not your view. Maximize your usable shaded outdoor living space and your view with the addition of a Sunesta Retractable Awning to your home.


Beautify your Home. — Your home is one-of-a-kind and your awning should be too. That's why we offer total customization so that each Sunesta is made to the distinct needs and style of each homeowner. And Sunesta Retractable Awnings don't just add beauty and space to your home, they also add equity – your covered outdoor space increases living area and value.


Expand your Space. — Without protection, you can't fully enjoy your outdoor living area. A Sunesta Retractable Awning allows you to expand your home's livable area, effectively adding a customized outdoor room.


Control Room Brightness. — Unlike permanent patio awnings, roofs, and enclosures, Sunesta Awnings can be retracted during darker times of the day, or on cloudy days, to brighten the interior of your home naturally.


Protect Indoor Furnishings. — The sun's UV rays can severely damage and fade furniture, carpet, upholstery, drapes and flooring. You can protect your valuable interior furnishings and prolong their life with a retractable awning from Sunesta.


Save on Your Utility Costs. — Our awnings help lower energy costs year-round. On warm days, extend your awning to block the sun from entering your home. Shading your interior will naturally cool your home and reduce air conditioning costs up to 25%. On cold days, you can retract your awning, allowing the sun to help heat your home. In snowy and stormy climates, your Sunesta Awning can be retracted, eliminating the need for expensive awning removal and reinstallation which are necessary for permanent-frame awnings.
Sunesta Awnings Are MIAMI-DADE APPROVED!
The Sunesta line of retractable awnings have passed one of the strictest building codes in the entire country, the Miami-Dade Product Approval.  If you are looking for the toughest, longest lasting retractable awning in the industry, you have found it here.
Retractable Awnings Photo Gallery