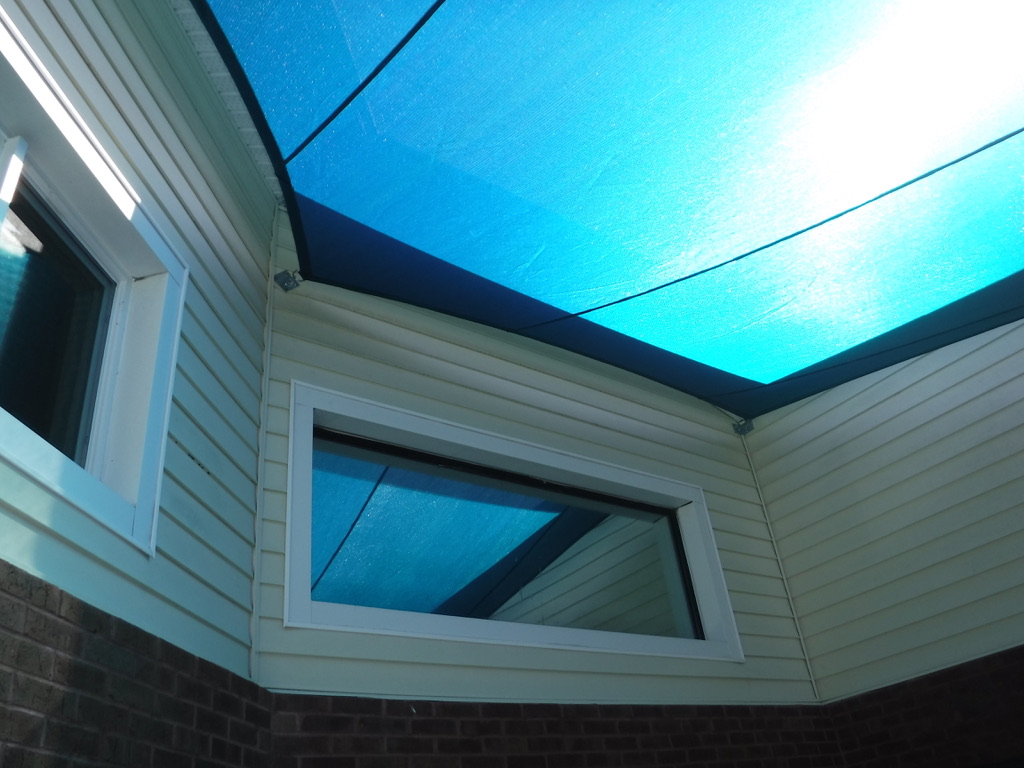 Shade Sails Tampa FL Keep you Cool Outside
Shade Sails Tampa FL are growing in popularity every day. They are the newest and most exciting development in the shade industry in the past few decades. With Shade Sails, you can make your outdoor living spaces cool and comfortable while adding a fantastic color accent to add bring beauty and interest.
At West Coast Awnings, we use only the finest grade Commercial 95 fabric that reduces UVA and UVB by over 90%, significantly reducing exposure to the harmful rays that cause most skin cancers. Our webbing reinforced edges are clean and simple looking while providing thousands of pounds of tension strength.

Shade Sail Hardware
The 316 alloy stainless steel hardware that our Tampa Sail Shades utilize is the finest available and marine grade for use in salty environments. You can count on this hardware to keep shade sails in Tampa FL functional and beautiful for years to come.
We specialize in custom residential shade sails. We make the shade sail fit your environment. We can also install large posts in order to support more attachment points if necessary. Our fully trained employees are masters at residential shade sail installation.
If you find yourself wondering, where can I get a custom shade sail near me, then look no further. You have found one of the premier shade sail manufacturers in Florida.
If you live in the Tampa Bay area and are interested in learning more about Tampa Shade Sails, give us call or follow this link to read more about them.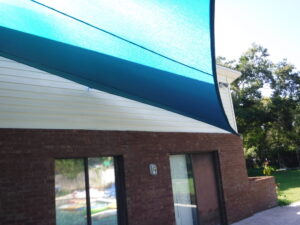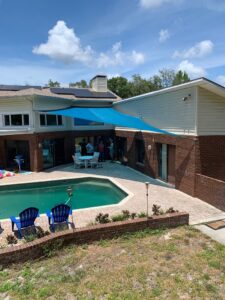 West Coast Awnings
We at West Coast Awnings make the best shade structures florida, florida shade sail code, sail shades tampa, sail shades st petersburg, sail shades clearwater, shade structures commercial, shade structures residential, commercial shade structures, structures commercial shade, commercial shade sails, residential shade sail.
Sail Shade FAQs
Where can I find residential shade sail installation near me? We install shade sails all over the Tampa Bay area.  Specifically in hillsborough, pinellas, and pasco counties.  Obviously, we are a shade sail manufacturer in those same counties as well.  Where can I find shade sails near me?  We don't have them pre-made, we make your sail for your specific home or business.  How much do shade sails cost? They can be relatively affordable when compared to other shade structures.  The best way to get an accurate quote is for us to come out to your site and provide a free estimate.
Shade Structure FAQs Cont.
Are shade sails worth it?  They add a lot of beauty and provide excellent shade to cool you up to 20 degrees.  Our sails are custom made to your site so they'll be beautiful as well.  They are made with the finest fabrics and materials so they are sure to last.  What color shade sail is best?  The best color is the one that makes you happy.  Dark colors absorb light and lighter colors reflect it, but they all work well to keep out the heat.  What color options are available for sail shades? See the link in the question to view Gale Pacific commercial 95 fabrics.