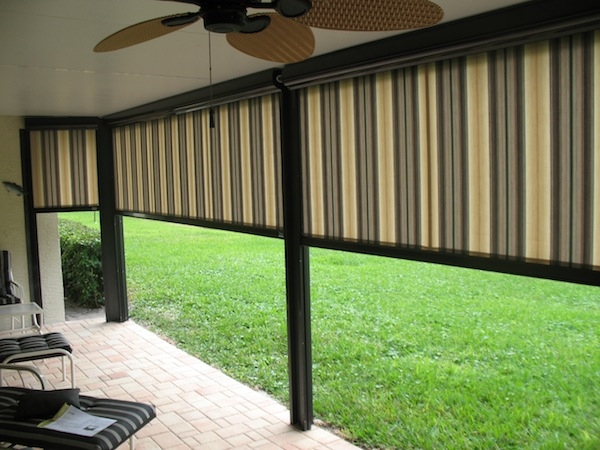 Retractable Screens by Sunesta
Our product of the week this week is a retractable screens from Sunesta called the Sentry.  This captured edge motorized retractable screen gives you the ability to protect your lanai or patio from insects, sun, cold weather, and rain.  As with their retractable awnings, Sunesta offers the largest selection of fabric choices in the industry for their shade screens.
Fabric or Screen Shades
From standard acrylic fabric, as seen in the photos below, to screens with varying degrees of openness.  The openness factor of the fabric you choose depends on the purpose for which you planning on using the screens.  A large openness factor keeps bugs out and allows for a lot of airflow, but it doesn't provide much shade or keep the rain out.  A small openness factor provides greater shade, privacy, and more protection from the elements.
Retractable Shades
All seams in the fabric are precision welded with one of the smallest weld widths in the industry.  Among other features, the Sentry retractable screen by Sunesta features a revolutionary floating track system that keeps the screen from binding up when operated in adverse weather conditions.  Retractable screens go by many aliases such as privacy screens, solar shades, and roll down screens.
Roll Down Screens
Roll down screens are becoming more and more popular due to the increasing number of applications they can be used in.  You can protect yourself from the suns harmful UV rays, stay relatively dry from the rain, and keep those pesky mosquitos away.  If you currently have drop curtains and are looking for a more versatile product, this retractable screen will solve all your problems.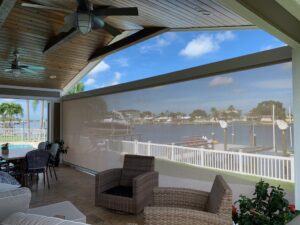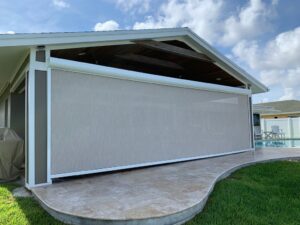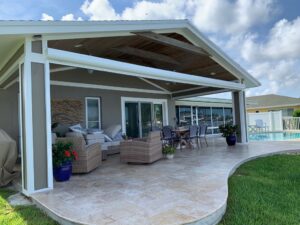 West Coast Awnings
At West Coast Awnings, we specialize in retractable screens.  Whether you are looking for phantom retractable screens, progressive retractable screens, SPF retractable screens, sunsetter retractable screens, motorized retractable screens for windows or french doors, retractable solar screens, manual retractable screens…you name it, we can help with it.  Whether you want screens for your patio or garage, they make all the difference.