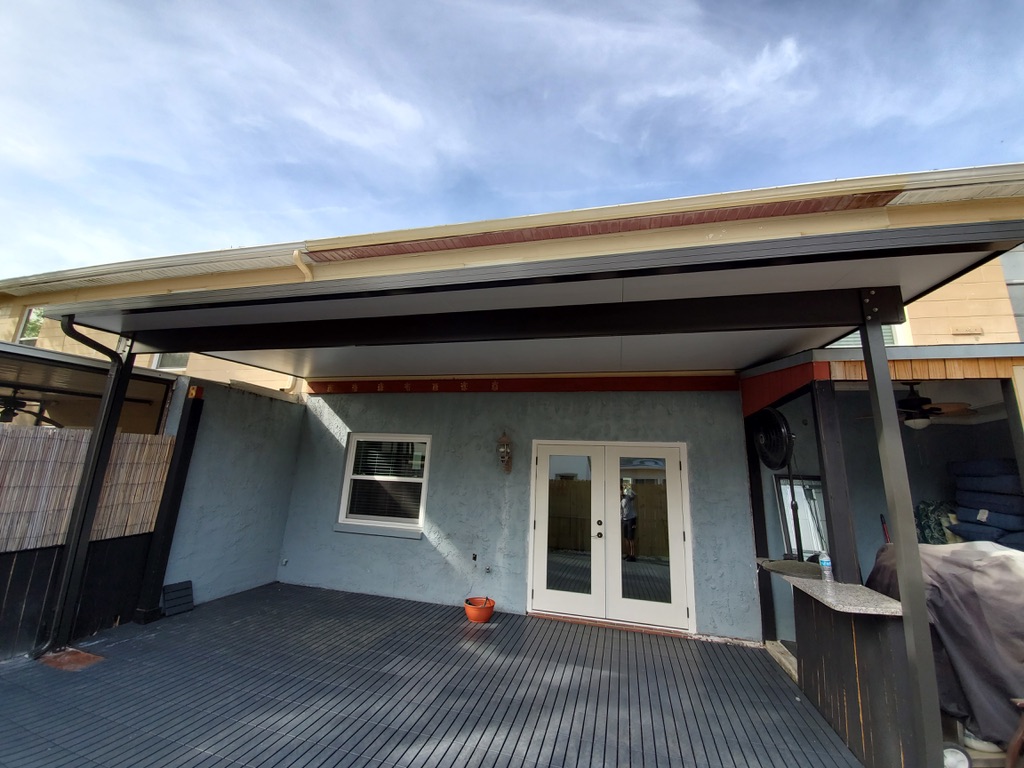 Insulated Aluminum Patio Cover Clearwater
Aluminum patio covers such as the insulated foam core canopy pictured here are great low maintenance, affordable options for covering your patio or deck.  They are constructed by using thick aluminum sheets and sandwiching a dense 3 inch insulating foam in between them.  The foam provides the insulation necessary to keep you, your guests, and your outdoor furniture protected from the harsh Florida sun.  Metal lanai covers are engineered to the latest Florida Building code and will withstand high winds during Hurricane season.
Aluminum patio roofs for homes are most often used as a patio cover or as a carport, but there are other uses such as a covered workspace or workshop or protecting lawn or pool equipment.  We even have available options for hanging a ceiling fan from the underside of your aluminum patio cover to provide you with some breeze even when the air outside is still and calm.  There are few additions to your home that you can make that are as worthwhile and useful as an insulated aluminum patio cover.
Insulated Aluminum Patio Cover
This particular cover was built at a retirement community know as On Top of the World. Their awnings have grown old and delapidated over time and now the community leaders have selected these aluminum patio canopies as their replacement.  You can see it has added nearly an entire room to their outdoor concrete slab.
Let us come out to your home or business to take a look at the area that you would like to cover.  We would really value the chance to help you with your aluminum patio awning needs.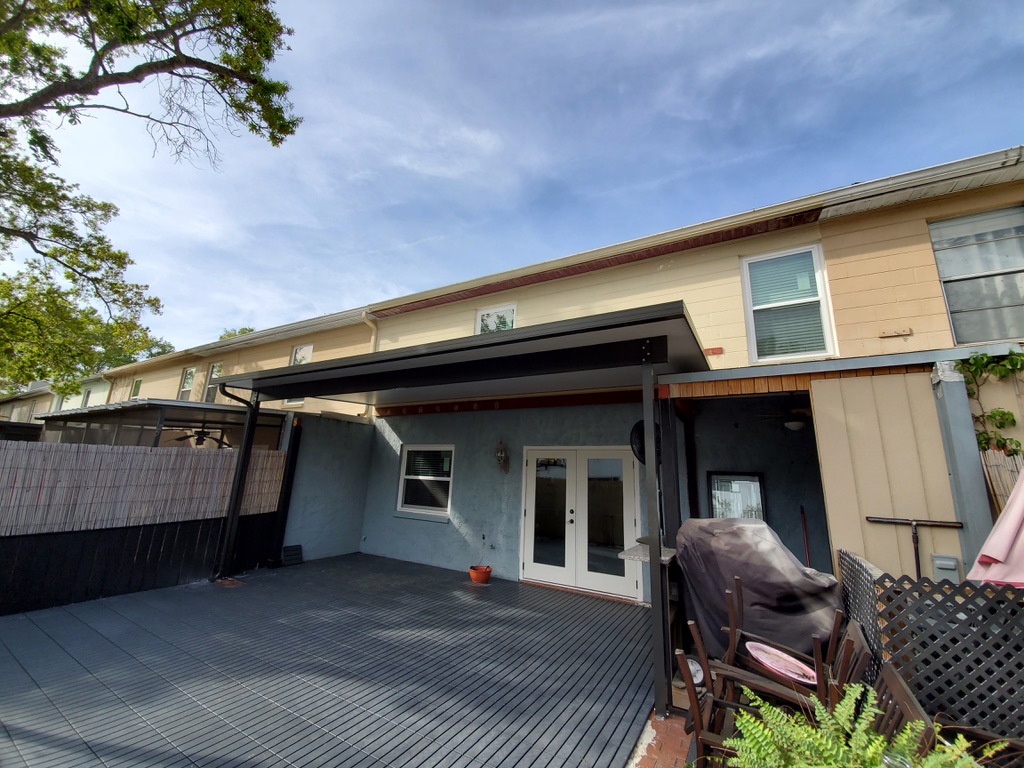 West Coast Awnings
At West Coast Awnings we specialize in insulated aluminum patio cover made with snap-lock insulated aluminum roof panels.  We are an insulated aluminum roof panels suppliers in the Clearwater area.  These go by many names such as patio insulated roof panels, aluminum patio cover panels, insulated patio covers, insulated aluminum patio covers, insulated roof panels, roof panels alumawood, and solid patio covers.
We are an aluminum specialties manufacturing expert and insulated aluminum patio cover manufacturers with over 60 years of experience.
Insulated Aluminum Patio Cover FAQ
Do you ever ask yourself, where can I find insulated aluminum patio covers near me?  If you are anywhere around the Tampa Bay Area then you can find them right here!  Are you curious about insulated patio cover prices or insulated aluminum roof panels prices?  Give us a call, email, text, or whatever you want and we will give you a ball park or set up an appointment to come see your project.
Insulated Aluminum Patio Cover FAQ Cont.
Are insulated patio covers worth it?  Considering it expands your outdoor space or covers your costly outdoor kitchen, the I would say it is absolutely worth it.  How do you insulate an aluminum patio roof?  There are a couple ways like spray foam, etc., but we recommend getting the insulated roof panels on the front end.  Are aluminum patio covers hot?  They are if they are not insulated roof panels.  You could fry an egg on an uninsulated aluminum roof panel.