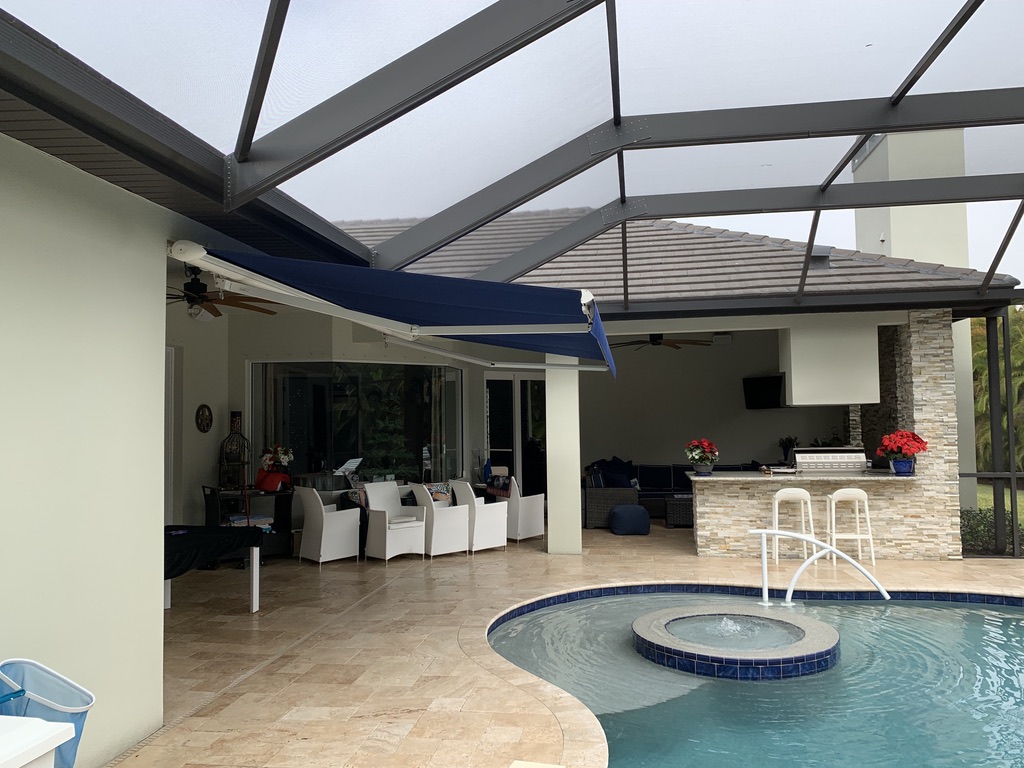 Retractable Awnings
Here is another great example of an outdoor lanai or pool patio being transformed into a comfortable living space by a retractable awnings from West Coast Awnings.  This beautiful retractable awning project was completed recently for one of our customers in New Port Richey in Pasco county.  We were so happy to be able to provide a top-quality product with the exclusive matching roll-down retractable valance feature to block the setting sun. 
Retractable Canopies
For this New Port Richey retractable awning owner, the outdoor oasis that they had always hoped for is now a reality.  When the sun threatens to bake them out of their patio, they simply press a button and the electric motors extend their retractable awnings to lower the temperature by up to 20 degrees instantly!  When rain, wind, or cold are on the way, they can press the same button and retract their beautiful awnings snugly against the house and out of harm's way.  You too could have a retractable awning just like this one to make your outdoor deck or patio a shady, cool, wonderful place to spend time with friends and family.
Retractable Shades
If you are interested in Sunesta retractable awnings in New Port Richey or the surrounding area, please give us a call and let us show you what amazing things we can do for you.  It is our deepest desire to earn your business through prompt, courteous service and high quality products.  Click on any of the links above to navigate through the rest of our site, or give us a call today to schedule a free on-site consultation.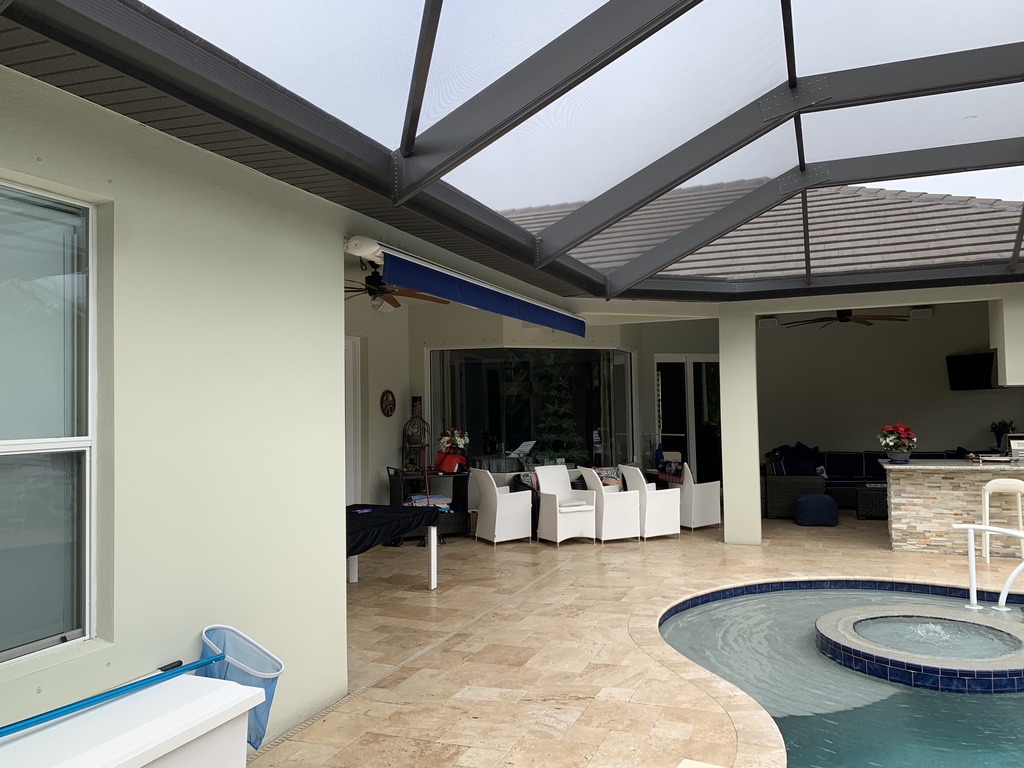 West Coast Awnings
Here at West Coast Awnings we love installing retractable patio awnings, pergola retractable awnings, manual retractable awnings, motorized retractable awnings, best retractable awnings, residential retractable awnings, retractable awning home depot, retractable awning lowes, retractable awning costco, patio retractable awnings, and many many more. 
Retractable Awning FAQs
What is the cost of retractable awnings?  That depends on the size of the awning, and whether you are purchasing from a high quality supplier like West Coast Awnings or the other guys like Sunsetter.  Where can I find retractable awnings near me?  If you live in the Tampa Bay Area, then we would be happy to give you a free estimate.  Are retractable canopies a good idea?  If you need on demand sun protection, then they are the best idea.  If you want rain and wind protection, then we can offer you better options.
Retractable Awning FAQs Cont.
Do retractable awnings last?  Our Sunesta awnings are made in the USA from European parts and are made to outlast the competition like Sunsetter.  The frames typically last 25-30 years with fabric lasting 15-20 years.  What should I look for when buying a retractable awning?  Check out our comparison list here for more details.