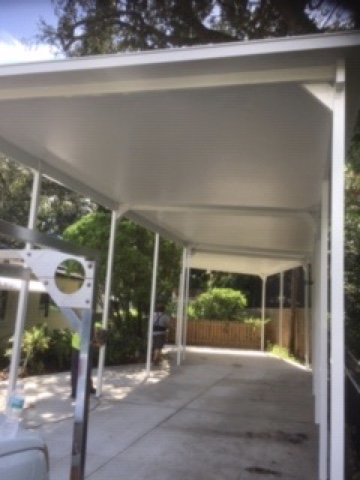 Metal Aluminum Carport Tampa

Metal Aluminum carports such as the insulated foam core canopy pictured here are great low maintenance, affordable options for covering your vehicle parking area, patio or deck.  They are constructed by using thick aluminum sheets and sandwiching a dense 3 inch foam in between them.
The foam provides the insulation necessary to keep you, your vehicles, or your outdoor furniture protected from the harsh Florida sun.  Aluminum carport in Tampa Bay are engineered to the latest Florida Building code so you can be sure your metal carport will withstand even the toughest weather.
Aluminum Carport Tampa
Aluminum Carports for homes are most often used as a patio cover or as a covered parking area, but there are other uses such as a covered workspace or workshop or protecting lawn or pool equipment.  You can even hang a ceiling fan from the underside of one of our aluminum patio covers to give you some breeze when the air is still.
This particular example has only about one quarter of an inch of slope per foot of projection.  This may sound like a leak-fest waiting to happen, but with these incredibly durable materials the roof will be water tight for many years to come. No other style of canopy can offer such incredible durability and functionality.
If you'd like more information or would like to schedule a free on-site consulation, give us a call or drop us an email using our online form.  We would appreciate the opportunity to earn your business.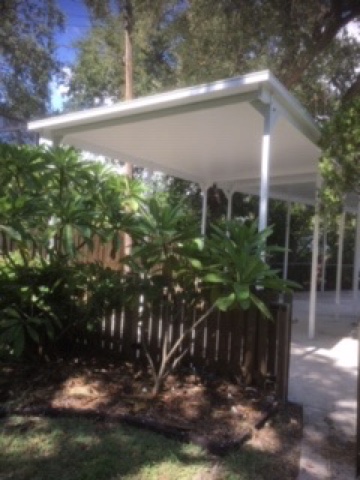 West Coast Awnings
At West Coast Awnings, we specialize at custom aluminum carport, aluminum carport kit, aluminum carports for sale, small aluminum carports, large aluminum carport, metal carports with sides, white aluminum carports, roof metal carport, and many many more.
Aluminum Carport FAQ
Are you looking for aluminum carports near me? Then you must be close to West Coast Awnings in Clearwater.  How much is an aluminum carport? That depends on the size, whether it is a freestanding metal carport, what the ground underneath the carport is made out of.
Is a metal carport worth it? If you are interested in protecting your car and your garage is full of junk, then absolutely!!!  Does a carport need footings?  If you have a concrete slab under the entire area of the carport you are trying to build, then you can simply anchor down to the concrete slab.  Otherwise, you will probably need concrete footings.