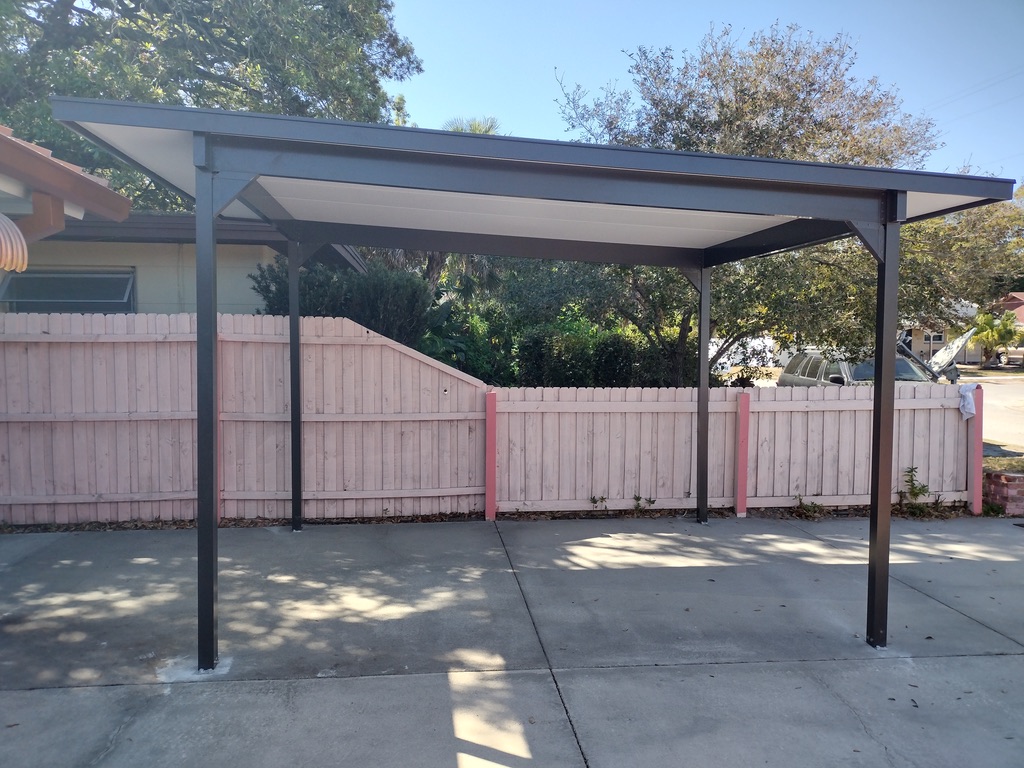 Metal Carports and Patio Awnings Tampa Bay
If you are looking for an experienced, professional Aluminum Carport manufacturer and installer, you have come to the right place!  At West Coast Awnings, we have been building and installing Metal Carports, Aluminum Patio Covers, and Insulated Foam Canopies for over 50 years.  You can visit our Aluminum Foam Core Carport Page by clicking on this link or by using the menus above.  Our Metal Carports are the finest available in Tampa Bay and will be installed by experienced craftsmen who are Licensed and Insured throughout the State of Florida.  Our Customer Service is absolutely top-notch and we have an A+ rating from the Better Business Bureau.  We can happily provide references in your area of other satisfied customers as well.
Metal Carports and Patio Awnings Clearwater
Check out this neat little carport we made for this customer.  Their little SUV fits perfectly next to their home out of the elements and protected.  With plenty of overhand on the side, this home owner can exit the vehicle without stepping out into the rain and enter through the side door warm and dry.  While the grass below the car port is likely to suffer from all the added traffic and lack of sunlight, the homeowner could easily have a small concrete slab poured later to cover the bare ground.  All in all, this is a great addition to the home that didn't cost an arm and a leg and even looks clean and attractive.
Metal Carports and Patio Awnings St Petersburg
So, if you are interested in an Aluminum Metal Carports in Tampa, Clearwater, or St Petersburg, please give us a call and be sure to mention that you found us through our website!  Thank you for the opportunity to earn your business.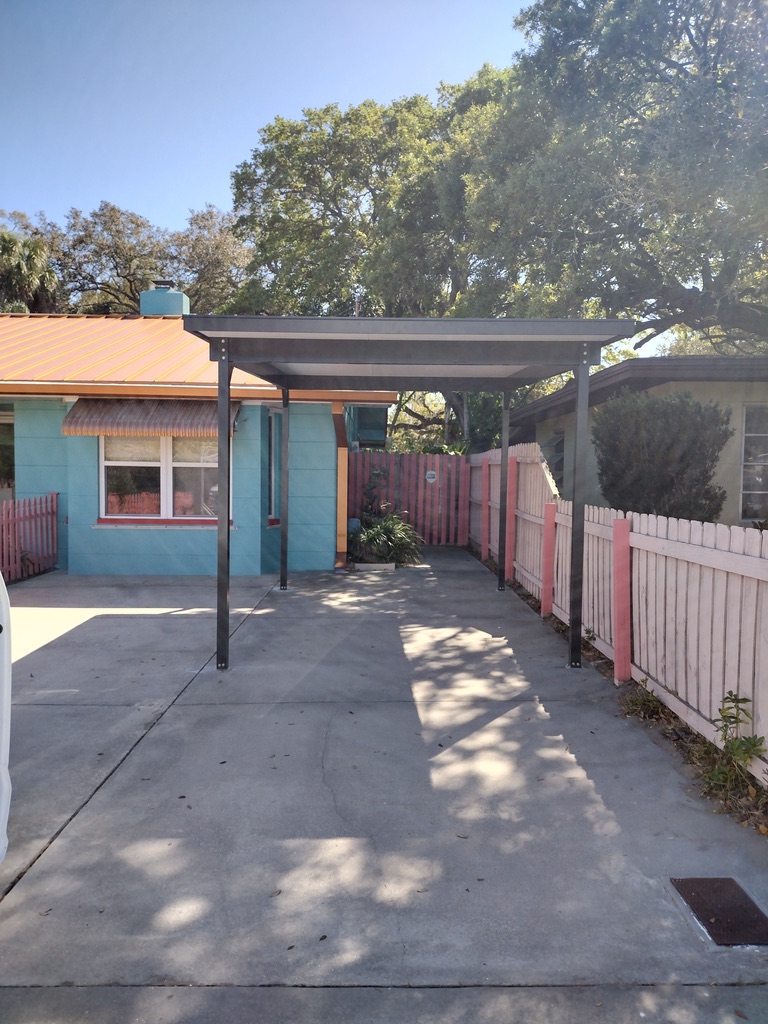 West Coast Awnings
We at West Coast Awnings specialize in metal carports for cars, metal carports for campers, metal carports for sale, heavy duty carports, heavy duty car canopies, aluminum carports, carports and metal buildings, metal carports and buildings, if it can be made out of aluminum there is a chance we can be your carport manufacturer.
Also, if you find yourself pondering about metal carports prices or where you can find a metal carport near me?  Then give us a call!!!  We'll let you the price for a metal carport and if you are in our metal carport installation are.  We may not have the cheapest metal carports, but we do have the expertise to know if an awnings works for you or not.
Common Questions about Metal Carports
Are metal carports worth the money?  They help protect some of your most valuable possessions like your car and home so I would think so.  Is a wood carport cheaper than metal?  The initial cost of a wood carport could be cheaper than metal carports, but if your metal carport is made out of aluminum is won't rot or rust so it will last a lifetime.  How sturdy are metal carports?  That depends on who builds them and what materials they use.  At West Coast Awnings, we build all of our metal carports to the latest building code standards so they should be able to withstand whatever mother nature has to offer.  What is the best metal carport company?  Uhhh duh! West Coast Awnings!!
Metal Carports Photo