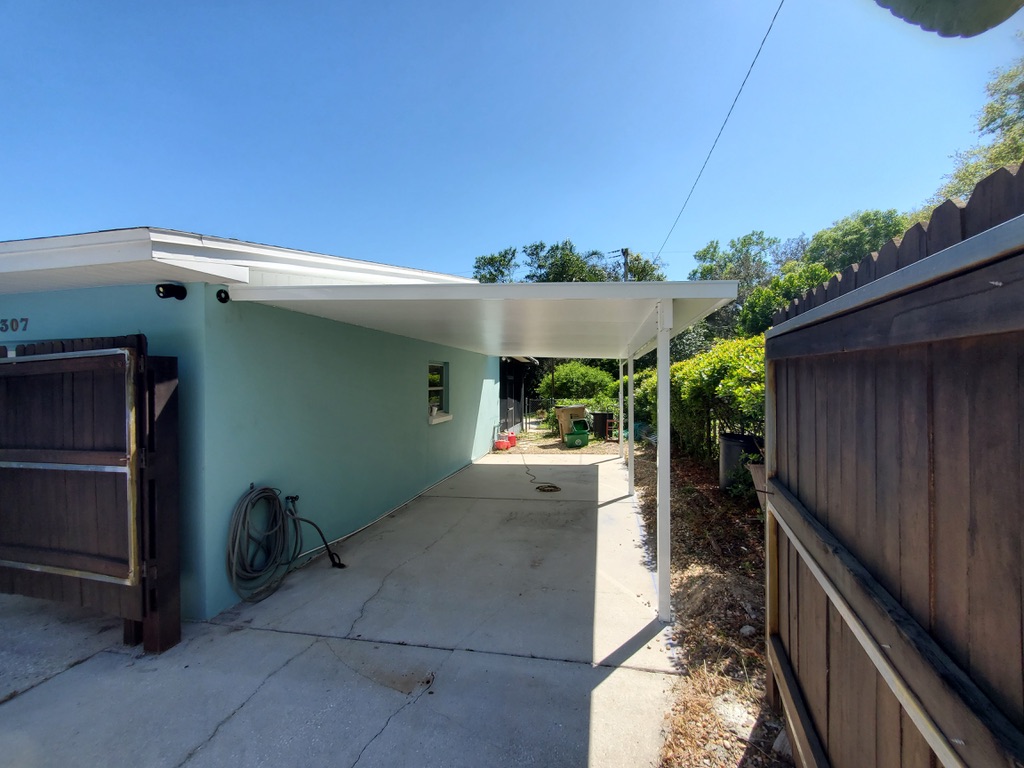 Tampa Carports – Professionally Installed, Custom Built
If you are one of the thousands of homeowners in the Tampa area who need a place to park their car that offers protection from sun, rain, and airborne debris (some of which is produced by birds), then West Coast Awnings is here to help you.  Building an enclosed garage can be both expensive and fraught with permitting nightmares.  An aluminum car canopy can be a terrific solution to protect your vehicle from whatever may come without breaking the bank. 
Metal Car Canopies
Our Carports offer the following features:
Tampa Carports are built with Extruded Aluminum for decades of rust-free performance.
Custom made to order so your Tampa Carport is built to fit your home precisely.
Powder Coated Finishes on our Tampa Car ports are available in White, Bronze, and Beige.
Stainless Steel Hardware is the perfect complement to our All Aluminum Tampa Carport Construction.
Car ports can be attached to an existing structure or free-standing in concrete footings.
Insulated Roofing Panels keep the underside of your Tampa Carport cool even in the summer heat.
Tampa Carports increase the value of your home by adding attractive parking options for potential buyers.
Over 50 Years of Installation Experience in Tampa for Carports and Awnings of all types.
Aluminum Car Covers
Check out our Tampa Carport page for more information or give us a call today to schedule a free on-site consultation with one of our Tampa Carport experts.  We will be happy to discuss your goals for your project and find a solution that fits your space and your budget.  We look forward to talking with you soon!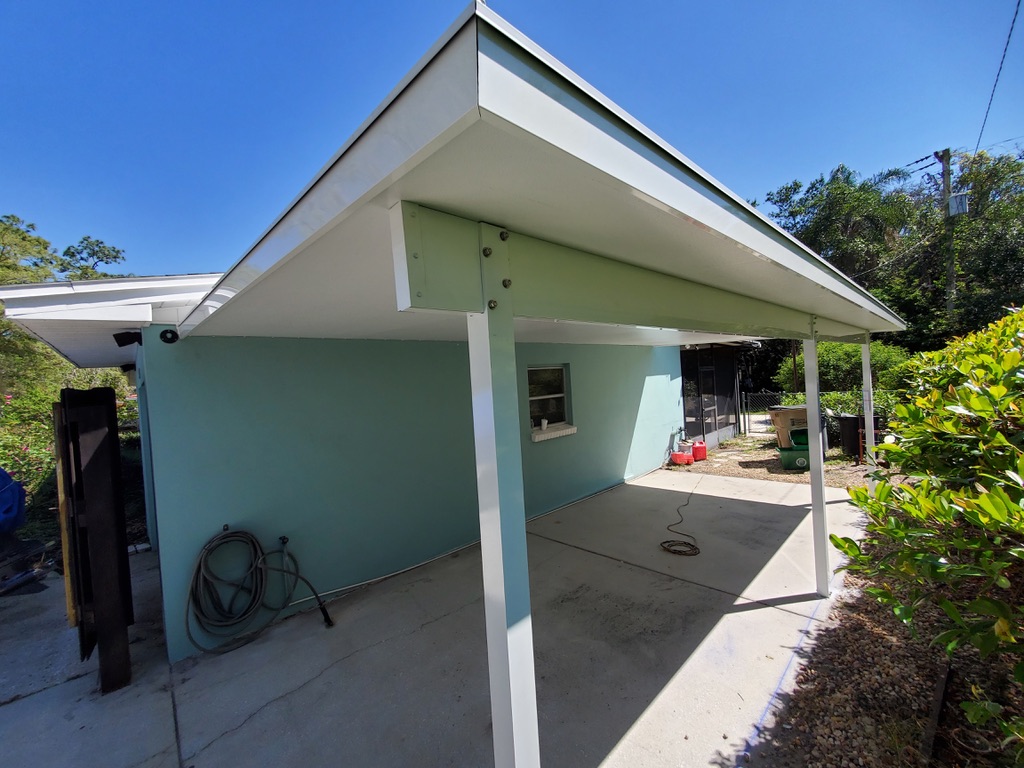 West Coast Awnings
At West Coast Awnings we love to solve peoples shade needs with american steel carports, eagle carports, carports garages, tnt carports, coast to coast carports, carolina carports, carports installed, aluminum carports, metal rv carports, carports building, double carports, carports sheds, metal carports, carport kits, and much much more!
Metal Car Cover FAQs
Where can I find aluminum carports near me?  If you live in the Tampa Bay Area, then you have found the right place.  Is it cheaper to build your own carport?  On the front end, you could save the labor money, but if you don't do it correctly, it will end up costing you more in the end.  What is cheaper wood or metal carport?  I would say that a wood carport would be cheaper initially, but over time wood will rot no matter how many times you paint it.  An aluminum car cover will last as long as the fasteners holding it together.  Just keep painting it.
Are metal carports worth the money?  As long as the metal you are referring to is aluminum, then I would say absolutely yes.  You are protecting your investment with a product that will last a lifetime.  How much do aluminum carports cost?  That depends on size, style, whether you needs concrete footings or not, etc.  Call us today for a free estimate.