Custom Color, Custom Fit Aluminum Awning for Disney
This week we had the privilege of working for one of the most famous Floridians of all time.  Mr. Mickey Mouse himself ordered an architectural aluminum awning from us to protect his favorite gate guards from the sun and rain.  He also needed his awning to blend in with a rather unique color scheme as you can see in the photos above. 
On top of that, the wall to which we had to attach our awning had a unique slant that made a standard vertical mount impossible!  Thanks to our incredible engineering staff, we found a solution and after an installation that started at 11:00PM and lasted through the night to 8:00AM the next morning, Mr. Mouse was very pleased with the results!  Check out the photos below:
Aluminum Awning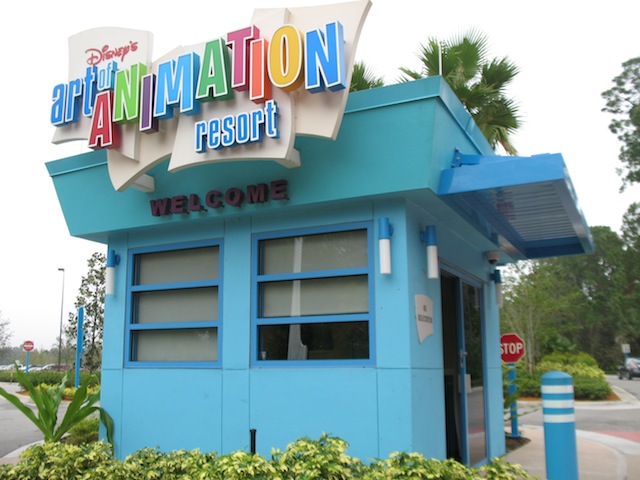 Metal awnings and specifically aluminum awnings are becoming more and more popular for our customers here in sunny Florida.  While welded aluminum awnings are more expensive than their fabric awning bretheren, they are easier to maintain and do not fade with the sun like fabric awnings eventually do.  At West Coast Awnings, we have the ability to produce high quality, custom-built metal awnings for your business that will not only serve an important function, but will also enhance the overall design and appearance of your structure.  Give us a call today and put our design experience to work for you!
Even if you aren't related to a famous rodent, we would still be honored to help with your project! Please let us know if we can help you soon.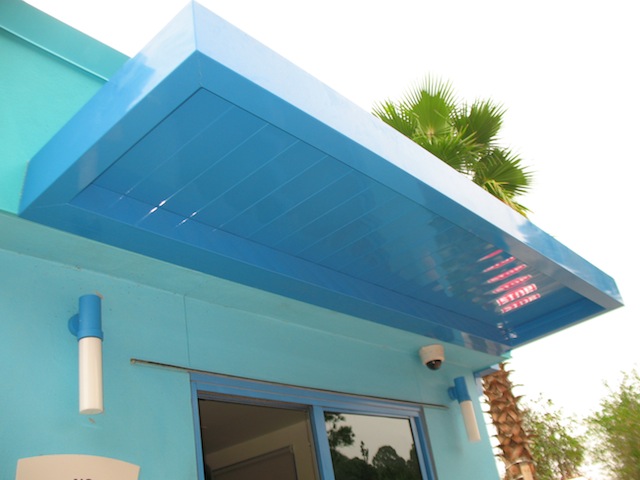 West Coast Awnings
At West Coast Awnings are your best aluminum awning company specializing in all kinds of awnings and canopies such as custom aluminum awning, step down aluminum awning, retractable aluminum awning, aluminum porch awning, aluminum patio awning, residential aluminum awnings, commercial aluminum awnings, aluminum awnings for doors, aluminum awnings for windows, aluminum awning kits, awnings aluminum, aluminum and metal awnings, and much much more.
Aluminum Canopy FAQs
How much do aluminum awnings cost? We have several different types of awnings, all made from aluminum, so the best way to get a cost is to look at our website, pick out what you were looking for, and give us a call for free estimate. Does Lowe's sell aluminum awnings? Honestly, I am not sure, but I do know they can't be as good as a custom awning made locally by seasoned craftsman to your specifications. How much weight will an aluminum awning hold? That depends on it's construction, and the fasteners used to attach it to it's host structure. Be sure to ask if the aluminum canopy you are purchasing is safe to walk on.
Who sells aluminum awnings? I know we do here at West Coast Awnings. We sell custom aluminum awnings to fit many applications and many price points. What is the cost to install a metal awning? The installation of our custom made products would be included in the lump sum estimate we will provide at no cost to you.