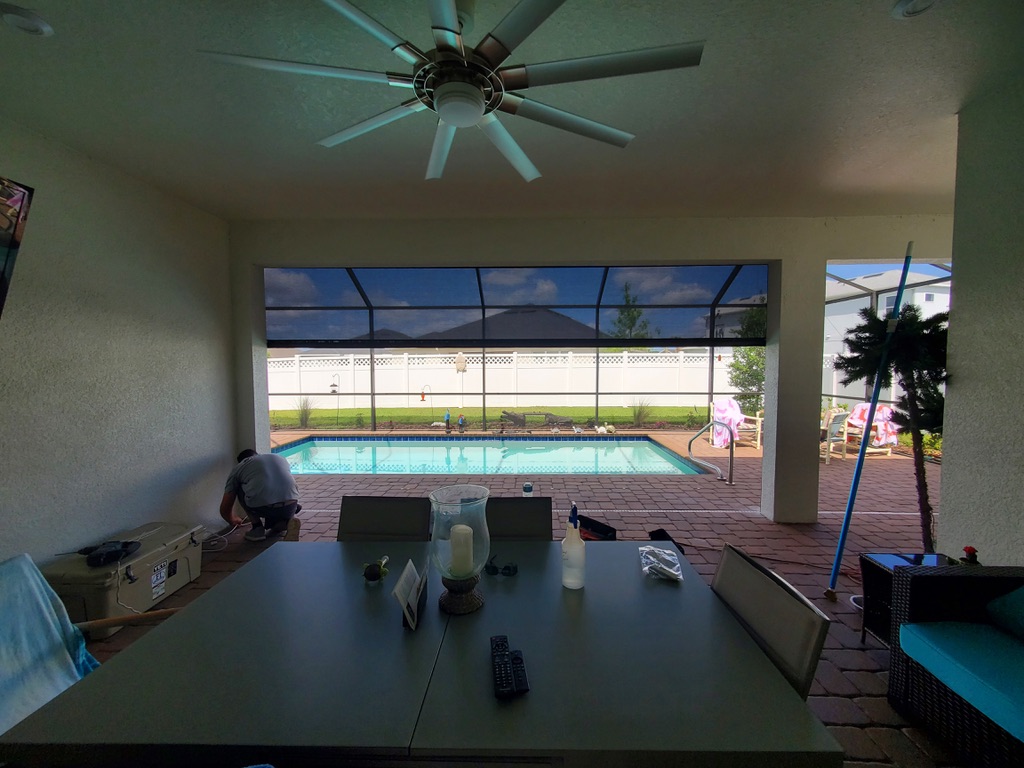 Best Motorized Roll Down Screens for Tampa Bay
The newest innovation for outdoor comfort on patios, lanais, and porches is the motorized roll-down screening system offered by West Coast Awnings.  With our edge-retention screen systems, you can have Shade, Privacy, Wind and Rain Protection, or Insect Protection at the push of a button.  Now your open lanai or patio can become fully enclosed with roll down shades when you need it to be and remain open when you prefer.  Installed by experts and backed by our unmatched warranty and service, these screens will improve your outdoor living experiences every day for years to come.
Roll Down Shades
Outdoor Roll down shades are terrifically wonderful and you should get one.  Honestly, everyone we install one for really loves them and says that they are a very convenient solution for their problems.  With motors and remotes to operate the retractable screens, nothing could be easier to keep the bugs out or stop the wind.  For a shading product, these roll down shades function beautifully as well.
Sentry Screens
We can offer screen densities from 18% blockage up to a full 100% black-out to reduce glare or darken a home theater room.  Check out this beautiful application in the photo below.  This customer needed to shade their patio deck area inside a conventional screen enclosure.  The retractable screen blocks 90% of the sun and wind keeping the area cooler in the summer and warmer in the winter.  Over all, nearly every home has an application for a retractable screen system.  What's too hot where you live?  Where is the cold spot outside in the winter?  Let us solve your temperature issues.
West Coast Awnings
At West Coast Awnings, we specialize in roll down shades outdoor and exterior roll down screens.  Fabric roller shades to protect you from the sun, winter winds, or bugs.  If you are asking yourself, where can I find fabric roll down shades near me, then we've got you covered.  Thinking…what are roll down curtains called?  They can be called retractable curtains, retractable screens, roll down screens, roll down shades, etc. What are the best roller shades?  In our opinion, Sunesta screens reign supreme.  We've got hundreds of shade fabrics and shade screens to choose from.  Give us a call to see what we have to offer!!!