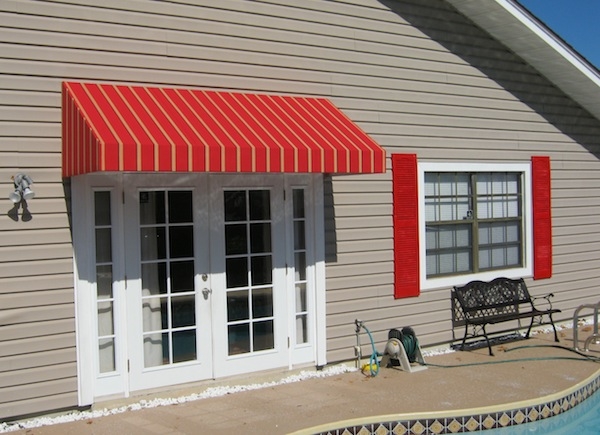 Custom Awnings for Homes
These last few days have been blistering hot, and one way to beat that heat is with the shade provided by one of our many awning and solar screen product offerings.  Did you know, it can be up to 20 degrees cooler in the shade than in the direct sun?  When considering your next investment in your home, give new awnings or canopies a thought.  Awnings and canopies not only add beauty and style to your home, but they are also crucial in stopping the sun's heat and harmful UV rays from entering your home saving your furniture and utilities cost.
Custom Awnings For Homes
Whether you are interested in retractable awnings or stationary custom awnings, we can help solve your needs.  We offer retractable screens, retractable roof systems, sun screens, fabric awnings and canopies, metal canopies and awnings, retractable awnings, and the list goes on.  So many of our outdoor spaces go unused for most of the year because they are just too hot to enjoy.
Sunbrella Fabric Awnings
With a Sunbrella canopy over your outdoor kitchen, patio, or deck, you can now enjoy that outdoor space yearround.  West Coast Awnings has earned a longstanding reputation for providing the highest quality products with great customer service and we plan to continue that trend for years to come.  Give a call or use the Contact Us link so that we get you back outdoors soon.
West Coast Awnings
Do you ever ask yourself, where can I find custom awnings near me?  The answer is West Coast Awnings if you are in the Tampa Bay area.  We specialize in custom awnings for homes, whether they be residential awnings, custom metal awnings, custom awnings online, custom retractable awning custom window awnings, or custom door awnings.  Have a business in the area?  We also manufacture custom awnings for business!!!  We will deliver beautiful elegant awnings right to your home and our professional awning installers will put them on your home.