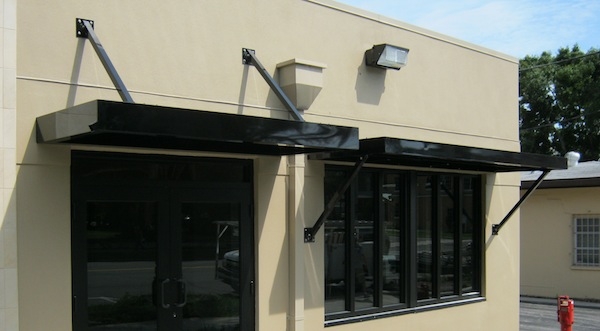 A new physician's office in Trinity, FL was in need of some architectural design elements and rain protection for their front entrance.  They chose to go with two different styles of architectural canopy.  Both have arms that tie-back to the building for additional support.  The differences lie in the pan style on the top of the canopy as well as the water management properties.  The difference in top panels is one is made from large plates of aluminum, while the other is made of several self mating panels which provides additional strength.
Architectural Canopies
One style manages water run-off with scuppers or gutters, while the other style has a drip edge all along the front of the canopy.  In addition to the architectural canopies, the customer requested bahama shutters to provide added beauty and shade.  The fully welded bahama shutters are not only attractive, but can offer hurricane protection in most situations.  All canopies and shutters were powder coated gloss black for a professional look.