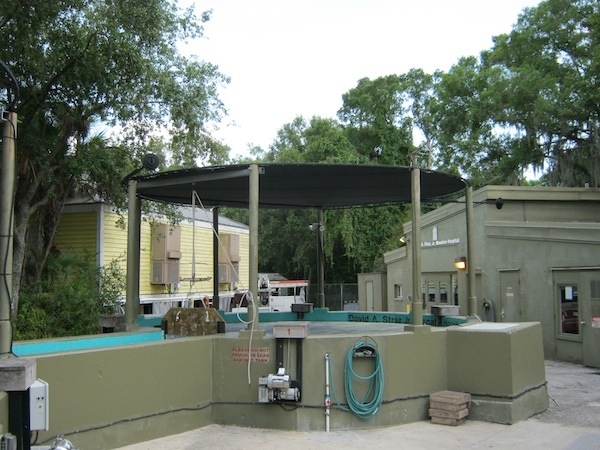 Shade Covers
Recently, we had the privilege to help out our manatee friends at the Lowry Park Zoo in Tampa.  The David A. Straz Manatee Hospital rehabilitates manatees that are injured by boats or other natural causes.  They asked us to help shade their manatees with a 90 percent block screen in order let their injuries heal quicker, and keep them cool and comfortable.
Shade Screens
The Phiphertex Plus shade screen was laced to the existing 20 to 22 foot frames. The first tank was only half covered with a screen screen as there is a big oak tree covering the other half.  This is also where the visitors to the zoo are able to observe the manatees at the hospital.  The two full shade screens have a cantilevered frame so that they hinge at the midpoint of the circle in order to allow access to the manatees from above.   We used Tenara thread on all the seams so they should stand up to the harsh direct sun.
West Coast Awnings
At West Coast Awnings, we specialized in shade screens for patios, shade screens for windows, screens for patios or decks, motorized outdoor shades, motorized pergolas, and much much more.  Don't buy your patio shade screen costco!  Get a custom fitted shade structure from us.  Looking for patio shade ideas or shade screens near me, then look no further.  Call us today for a free estimate.