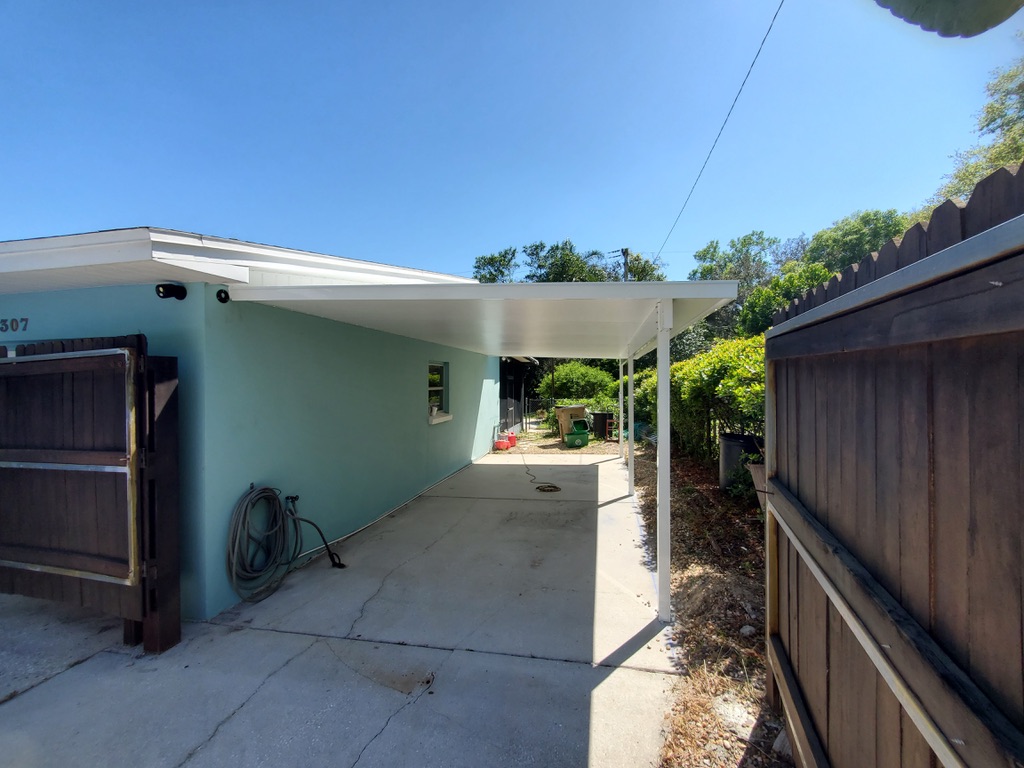 Aluminum Carport Covers in Tampa
Are you looking for information on Aluminum Carport Covers in the Tampa Bay Area?  You've come to the right place.  A metal carport in Tampa is a great addition to any driveway to protect your vehicle from harsh weather and damaging sunlight.  An aluminum carport in Tampa will keep your car's interior cooler as well by shading it during the day.
Aluminum Carport Covers Tampa Design
Aluminum Carports in Tampa Bay are built from high quality aluminum components that will never rust.
Our metal carports are professionally engineered to the current Florida Building Code to withstand Hurricane-Force winds.
Our aluminum carport composite roofing materials are insulated with three inches (3″) of dense foam. This keeps the heat from the top side of the panel from reaching the underside of the panel and maintains a lower temperature beneath the metal carport cover.
West Coast Awning's aluminum carports are custom made to order.  You can select whatever width, length, and height that suits your needs.
Ceiling fans and lighting can be wired to our metal carports through an integrated wireway hidden within the insulated roofing panel.
Aluminum carport roofs can be anchored down to existing concrete driveways or have individual concrete footings poured for each support post.
Our metal carports can be attached to an existing wall to create a 'lean-to' style aluminum carport, or they can be free-standing on aluminum posts.
Give us a call today or check out our Aluminum Carport Tampa page for more information.  We would love a chance to earn your metal carport business.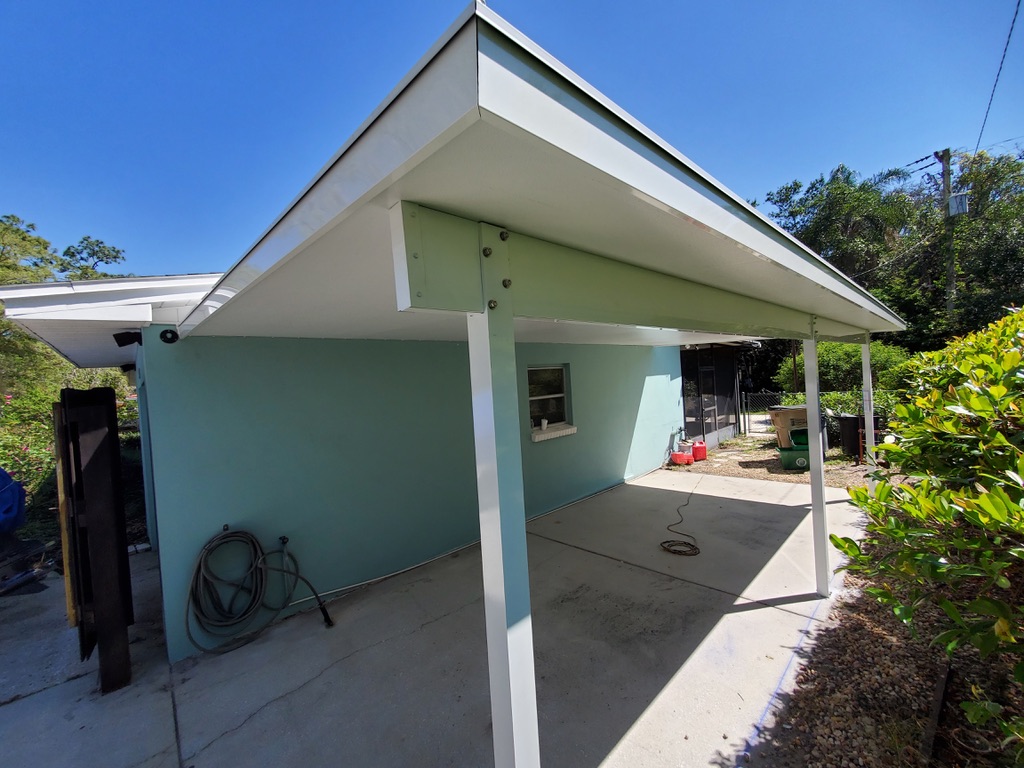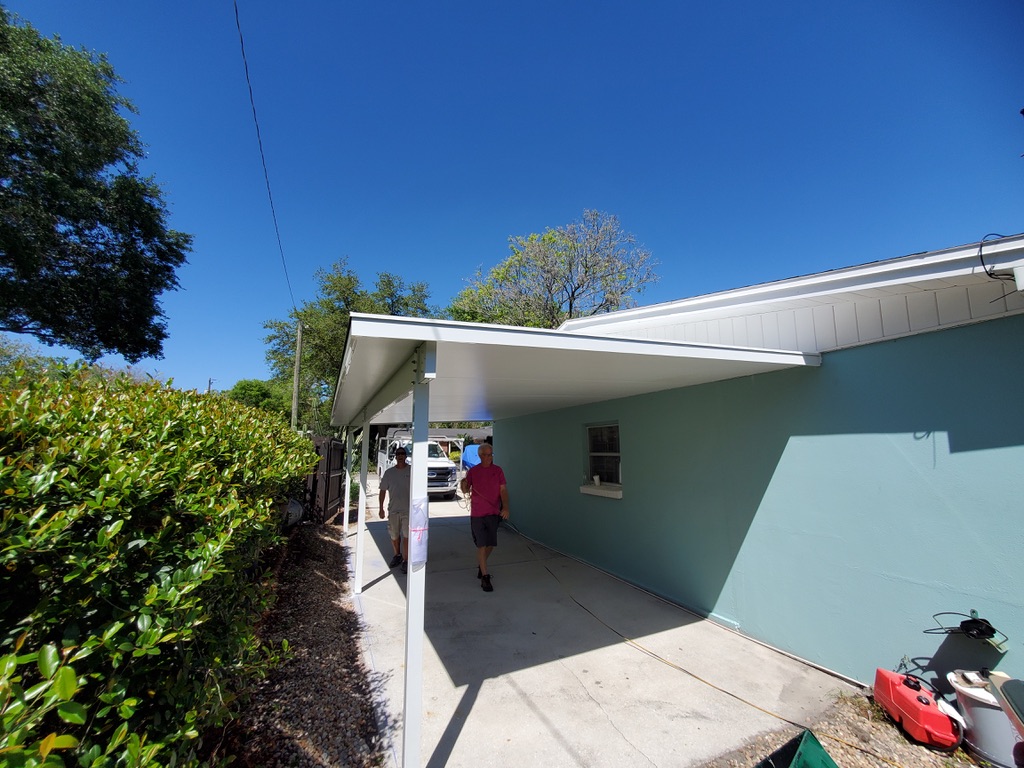 West Coast Awnings
At West Coast Awnings, we specialize in vinyl carport covers, 2 car carport covers, replacement carport covers, metal carport covers, carport covers for sale, carport cover kits, classic carport, and much much more.
We do not recommend portable carport covers, wood carport covers, cheap carports, and the like.
Metal Carport Canopies FAQs
Do you ever wonder where can I find carport covers near me or metal carport covers near me?  If you are in the Tampa Bay area, then we would be happy to build one for you.  How much does it cost to cover a carport?  That really depends on what you make the carport out of and how big the carport is.  The best way is to call us and schedule an appointment to hear exactly what you had in mind and what you are trying to accomplish. 
Carports and Canopies FAQs
How can I hide my metal carport?  Our carports are so good looking that you won't want to hide them.  But I guess you could plant landscaping to cover the posts over time.  What are standard carport sizes?  Our foam core canopies and carports come in 2 foot and 4 foot wide panels, the length is custom by the foot so there isn't a standard there.  How do you install a carport cover?  It takes our trained professional carport installers about a day to install a standard carport attached to the home.  We don't recommend trying to install them yourself unless you are highly trained in installing aluminum products.