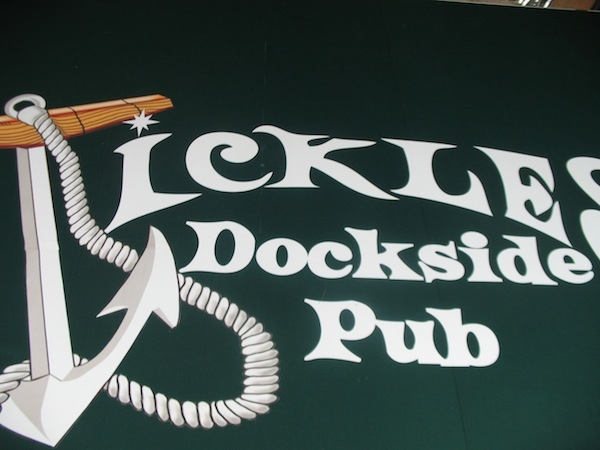 Some time back we were contacted by Lou.  Lou had a second home nearby our office in Florida, but his main residence and place of business was located in the U.S. Virgin Islands, St. Thomas to be precise.  Lou was unable to find a quality best fabric awning manufacturer in the Virgin Islands or Caribbean, so he turned to West Cost Awnings in Clearwater, FL to solve his dilemma.
Fabric Awning Tickles Dockside Pub
After drawing the short straw, Rick boarded a plane for St. Thomas in order to perform an in depth field measure of Lou's restaurant, Tickles Dockside Pub.  Lou was looking to catch the eye of the patrons on the many cruise ships making port at St. Thomas.  
Sunbrella Fabric
In order to accomplish this, he decided to go with a custom lace-on Sunbrella, the best outdoor awning fabric, cover with thermally applied color graphics.  This provided not only shade awning for his patrons at his restaurant, but also made the statement Lou was looking to make to those passing cruise ships.  The reason for the lace-on fabric awning cover was two-fold.  
First, the awning would be shipped in a freight container so it was imperative to keep the cover safe from any tears or scratches in transit.  It was rolled and placed in a custom bag made to protect it on its voyage.  The second reason for the lace-on cover was to provide Lou with the ability to remove the cover in the unfortunate occurrence of heavy wind, or God forbid, a hurricane in the area.  
We Floridians can relate to that concern.  After flying a 2 man installation crew down to St. Thomas, the fabric awning fit perfectly, and was installed in less than two days.  All this after visiting the site one time to measure and plan.
He later added a fabric window awning to complete the look of his restaurant. Whether you are looking for fabric awning replacement or a new fabric awning on your patio, we are here and ready to help.  If your are searching for, "awnings near me" and are in the Tampa Bay area, give us a call or send us a message today.
Frames on the pub before the cover was installed: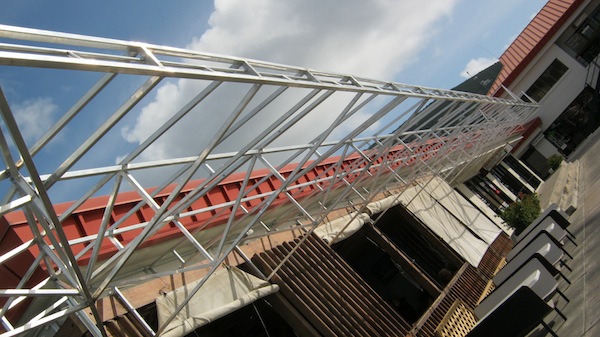 Side view of the finished product: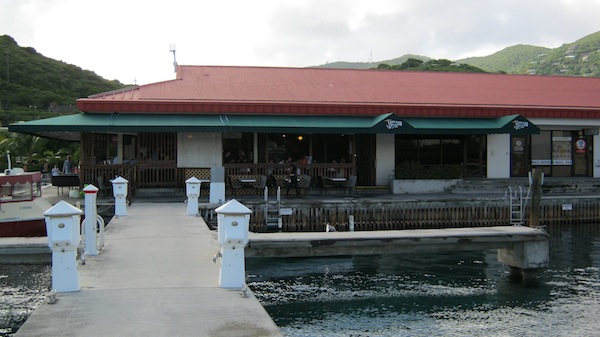 Finished product from across the canal: