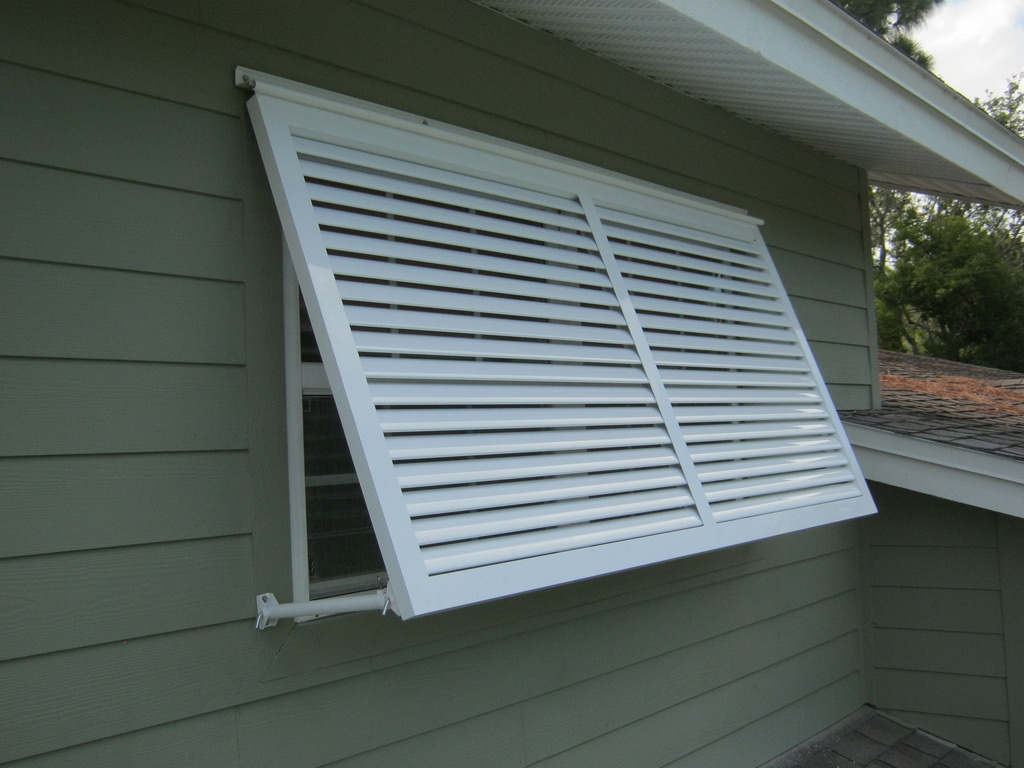 Aluminum Awning Clearwater FL
People ask us all the time if we sell aluminum awnings.  We sell several different types of aluminum awnings and shutters so it isn't always an easy question to answer quickly.  One of the most popular type of aluminum awnings is what we refer to as a bermuda shutter or awning.  We also sell architectural canopies, louvered sunshades, standing seam awnings, and bahama shutters.
Aluminum Awning Clearwater FL
When you look at the photos below I think you'll be able to tell why.  Aluminum awnings are great for providing shade, and can even be pivoted down over the window before inclement weather strikes to provide some protection from the elements.  While not approved by the Florida Building Code for hurricane protection, every little bit helps.  The all aluminum construction of these awnings mean that they will not rust and will last for years to come.  We coat the awning with a durable polyester powder coat from Tiger.
West Coast Awnings
At West Coast Awnings, we have the capability to manufacture and install metal awnings, canopies, and shutters.  We love making metal patio awnings or shades for your windows and doors.  If you are searching for awning companies near me, and you are in the Tampa Bay area, then we are your one stop shop for anything shade. 
Awning Service Area
We will bring our products anywhere in the area.  Even if you are looking for aluminum awnings Tampa, aluminum awnings St. Petersburg, or aluminum awning Clearwater FL.  Especially if you are looking for aluminum awnings near me, we have a wide variety of metal awnings, shutters, and canopies that could be right for you. Come see why we are one of the top awning companies in the state of FL.