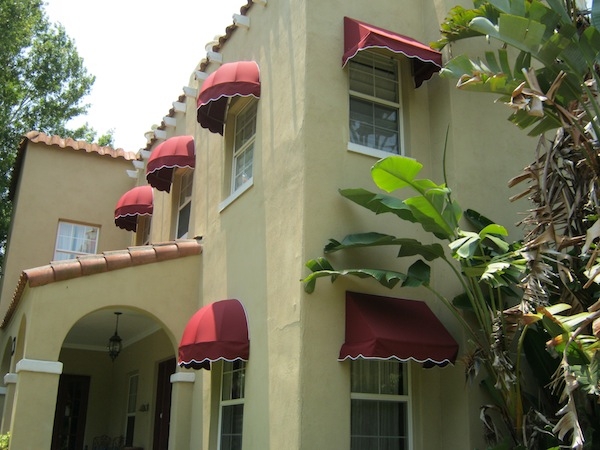 Sunbrella Fabric Awning Recovers
Looking for a way to spruce up the exterior of your home?  Have existing awnings that have seen better days?  Nothing will set your home apart from the rest like recovering your existing canopy frames.  Recently, we had the opportunity to recover 16 awnings of varying shapes and sizes for a customer in St. Petersburg.  The spanish/mesa style of the home looked great with the dome awnings and traditional awnings and choice of valance scallop.  The customer and their salesman really knocked this one out of the park.
Awning Recover
Awning recovers can add a splash of color to dull exterior, or be made to blend in with your current home decor.  Our Sunbrella and Sattler fabrics come with a 10 year warranty, and the Tenara thread we use is warranted for the life of the fabric.  Be sure you ask about the thread and fabric other awning companies are using because odds are they are not using the best.  Whether your recovers are big or small, we would be happy to help get you the best awnings on the market.
West Coast Awnings
We are your fabric awning recover specialist.  Fabric awnings can be tricky to replace, so when you replace fabric on your awnings, go with a trusted professional for your awning manufacturer and awning installation.  You may ask, where can I get an awning recovering near me?  If you are in Pinellas, Pasco, or Hillsborough counties then you are in luck.  We specialize in canvas awnings, vinyl awnings, retractable awning recovers, retractable awning fabric replacement, patio awning recovers, and the list goes on.