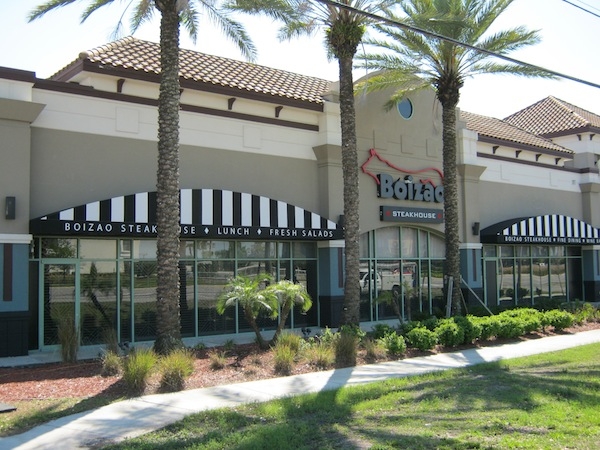 We were blown away when we saw the finished product on our recent job for Boizao Steakhouse in Tampa, FL.  There are three radius marquee awnings facing the street, and three small dome awnings above the entrance way.  The black and white Sunbrella fabric was treated for flame retardancy and then sewn together foot by foot to create the dramatic blocked stripe effect.
Radius Marquee and Dome Awnings
Florida Building code calls for flame retardant fabric on all commercial buildings, so be sure your awning provider is providing you with a flame certificate to prove it.  In the event of a fire, the local municipality and insurance company will be looking for places to point the finger and you don't want that to be you.  The graphics were heat applied in order to ensure longevity on the Sunbrella fabric.  White custom flags/penants with a red Boizao logo were added to provide some contrast to the black on the awnings.  Overall, a very upscale look for a great restaurant.