WHY BUY A RETRACTABLE AWNING?
Block the Sun, Keep your View. -- Our strong, streamlined designs eliminate the need for support poles, so our awnings block only the sun or light rain, and not your view. Maximize your usable shaded outdoor living space and your view with the addition of a Sunesta Retractable Awning to your home.

Protect Indoor Furnishings. -- The sun's UV rays can severely damage and fade furniture, carpet, upholstery, drapes and flooring. You can protect your valuable interior furnishings and prolong their life with a retractable awning from Sunesta.

Beautify your Home. -- Your home is one-of-a-kind and your awning should be too. That's why we offer total customization so that each Sunesta is made to the distinct needs and style of each homeowner. And Sunesta Retractable Awnings don't just add beauty and space to your home, they also add equity – your covered outdoor space increases living area and value.

Shade when you NEED it, Sun when you WANT it. -- With a Sunesta Retractable Awning, you control the shade. Enjoy your outdoor living area more than ever with the convenience of total shade control. Extend and retract your Sunesta Awning with the turn of a handle or push of a button – it's that simple. Your awning can be extended fully, partially, or retracted depending on the amount of shade you need or how much sun you want. Expand your Space. -- Without protection, you can't fully enjoy your outdoor living area. A Sunesta Retractable Awning allows you to expand your home's livable area, effectively adding a customized outdoor room.

Save on Your Utility Costs. -- Our awnings help lower energy costs year-round. On warm days, extend your awning to block the sun from entering your home. Shading your interior will naturally cool your home and reduce air conditioning costs up to 25%. On cold days, you can retract your awning, allowing the sun to help heat your home. In snowy and stormy climates, your Sunesta Awning can be retracted, eliminating the need for expensive awning removal and reinstallation which are necessary for permanent-frame awnings.

Control Room Brightness. -- Unlike permanent patio awnings, roofs, and enclosures, Sunesta Awnings can be retracted during darker times of the day, or on cloudy days, to brighten the interior of your home naturally.


Commercial Retractable
Awnings
Retractable Awnings Improve Both Look and Comfort Level
If you're looking for shade solutions for a commercial building project, consider a Sunesta Retractable Awning from West Coast Awnings. These versatile shade structures have certain advantages over fixed canopies that make them a particularly good option for many businesses.
Awnings can improve the look of both commercial and residential properties immensely, with a chic and stylish or perky and cheerful flair that provides an instant lift to any exterior. On hot Florida days, a retractable awning can vastly improve the comfort of your guests both indoors and out, by shielding them from the sun's intense UV rays.
Retractable awnings are also ideal for cooler days and evenings as well because they can be retracted to allow the sun in to warm your customers or to give dramatic views of the night sky. Nothing could be better for homes and businesses in the Tampa, St. Pete, Clearwater area.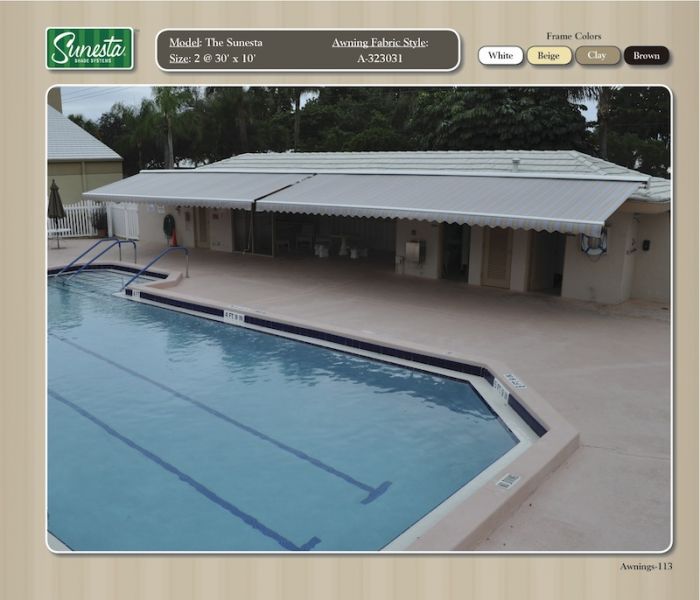 Acrylic Fabrics: Beauty & Durability in One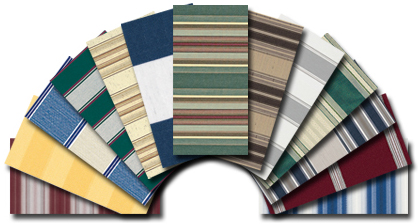 Sunesta retractable awnings are especially valuable because every unit comes standard with premium Sattler acrylic canvas fabric. Commonly called by the brand name "Sunbrella," this fabric is available in over 190 colors and patterns and can be treated for fire-retardancy to satisfy Florida's strict building codes.
Sunbrella's Firesist line of fabrics along with Sattler's Firemaster products offer the ultimate in fire safety and peace of mind. While maintaining excellent water-repellency, acrylic canvas fabric remains breathable, allowing hot air to rise through the fabric, keeping the shaded aread 15-20 degrees cooler!!
Click on our fabric selection tool below to browse some of the beautiful fabrics available on our Sunesta retractable awnings.
Retractable Awnings Photo Gallery